KIA Niro: Automatic reversal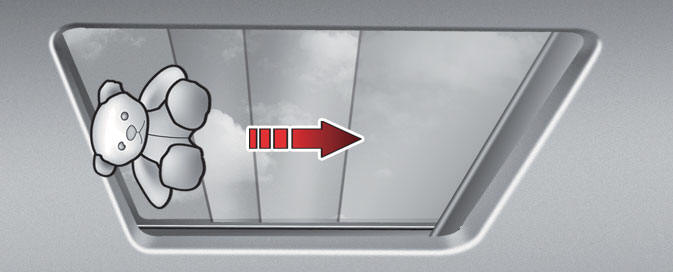 If the sunroof glass senses any obstacle while it is closing automatically, it will reverse direction then stop at a certain position.
The auto reverse function may not work if an object thin or soft is caught between the sliding sunroof glass and sunroof sash.
WARNING
Make sure heads, hands, arms or any other body parts or objects are out of the way before operating the sunroof.

Body parts or objects may get caught causing injuries or vehicle damage.

Never deliberately use your body parts to test the automatic reversal function. The sunroof glass may reverse direction, but there is a risk of injury.
NOTICE
Do not continue to push the sunroof switch after the sunroof is fully opened, closed, or tilted. Damage to the sunroof motor could occur.
Continuous operations such as slide open/close, tilt open/close, etc. may cause the motor or sunroof system to malfunction.
Regularly remove any accumulated dust on the sunroof rail.
Dust accumulated between the sunroof and roof panel can make noise Open the sunroof and remove dust regularly using a clean cloth.
Do not try to open the sunroof when the temperature is below freezing or when the sunroof is covered with snow or ice. The sunroof may not work properly and may break if opened by force.
Do not open or drive with the sunroof glass open immediately after rain or washing the vehicle. Water may wet the interior of the vehicle.
Do not extend any luggage outside the sunroof while driving. Vehicle damage may occur if the vehicle suddenly stops.
WARNING
Do not extend your head, arms, body parts or objects outside the sunroof while driving. Injuries may occur if the vehicle suddenly stops.
READ NEXT:
In some circumstances resetting the sunroof operation may need to be performed. Some instances where resetting the sunroof may be required include: When the 12-volt battery is either disconnected or discharged When the sunroof fuse i
Motor Driven Power Steering (MDPS) - (Kia Niro Hybrid only) Power steering uses the motor to assist you in steering the vehicle. If the engine is off or if the power steering system becomes inoperative, the vehicle may still be steered, but it
Adjusting the steering wheel angle and height- (Kia Niro EV only) Operation Pull the lock-release lever (1) down. Adjust the steering wheel to the desired angle (2) and height (3). Pull the lock-release lever up. Adjusting ste
SEE MORE:
Warning Be sure to read and follow the "General Safety Information and Caution" before doing any work related with the high voltage system. Failure to follow the safety instructions may result in serious electrical injuries. Be sure to
Replacement Warning Be sure to read and follow the "General Safety Information and Caution" before doing any work related with the high voltage system. Failure to follow the safety instructions may result in serious electrical injuries