KIA Niro: Instrument cluster (Kia NIRO Hybrid)


Type A


Type B
Tachometer/Power gauge
Indicates the approximate number of engine revolutions per minute (rpm).
For type B, select Settings ? Vehicle ? Cluster ? Tachometer display to display tachometer based on drive mode.
Indicates whether the current driving condition is fuel efficient or not.
CHARGE: energy made by the vehicle is being converted to electrical energy. (Regenerated energy)
ECO: Shows that the vehicle is being driven in an Eco-friendly manner.
POWER: Shows that the vehicle is exceeding the Eco-friendly range.
Speedometer
km/h, MPH
The speed of the vehicle in kilometers per hour (km/h) or miles per hour (mph).
Hybrid battery SOC gauge
Indicates the remaining hybrid battery power.
Fuel gauge
Indicates the approximate amount of fuel remaining in the fuel tank.
Odometer
Indicates the total distance that the vehicle has been driven.
Distance to empty
Indicates the distance the vehicle can be driven with the remaining fuel.
Transmission shift indicator (if equipped)
Indicates which gear is selected
Dual clutch transmission shift indicator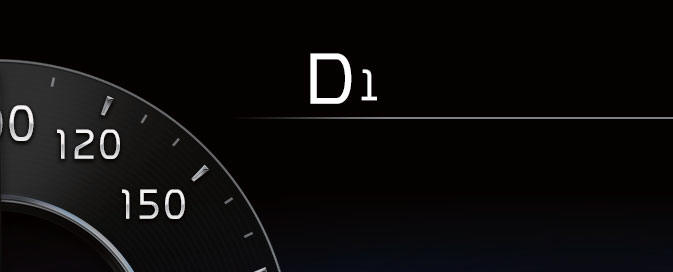 This indicator displays which shift lever is selected.
Park: P
Reverse: R
Neutral: N
Drive: D1, D2, D3, D4, D5, D6
Manual mode: S1 , S2, S3, S4, S5, S6
Outside temperature gauge
Indicates the current outside air temperatures.
Warning and indicator lights
Refer to "Warning and indicator lights"
Plug-in hybrid mode indicator (Plug-in hybrid vehicle)
CD (Charge Depleting, Electric) mode: The high-voltage (hybrid) battery is used to drive the vehicle.
AUTO mode: The AUTO mode will be automatically selected from either from Electric (CD) mode or Hybrid (CS) mode by the system according to the driving
CS (Charge Sustaining, Hybrid) mode: The high-voltage (hybrid) battery and gasoline engine is used to drive the vehicle. A corresponding message is displayed to indicate the selected mode.
EV+ mode: The high-voltage (hybrid) battery is only used to drive the vehicle.

(Except completely depressing the accelerator pedal)
READ NEXT:
Speedometer MPH, km/h The speed of the vehicle in kilometers per hour (km/h) or miles per hour (mph). Distance to empty Estimated distance the vehicle can be driven with the remaining electric energy. Power/Ch
The full LCD type cluster provides two themes. Link to Drive Mode This is the basic theme of the full LCD type cluster and provides different graphic styles depending on drive mode. Theme This is set by the user and provides digital displa
Cluster themes (if equipped) The cluster provides two themes. Type A Type A is the basic theme of the full LCD type cluster and provides different graphic styles depending on drive mode. Type B (Dynamic) Type B is set by the user and provid
SEE MORE:
(Kia Niro Hybrid only) A: Check forward safety systems When Forward Collision-Avoidance Assist is not working properly, the warning message will appear, and the ( ) and ( ) warning lights will appear on the cluster. Kia recommends visitin
Normal maintenance schedule - for Europe I: Inspect and adjust, correct, clean, or replace if necessary. R: Replace or change. * 1: When replacing or adding coolant, we recommend that you visit an authorized Kia dealer/service partner. * 2