KIA Niro: Safe Exit Warning operation
Safe Exit Warning warns the following actions.
Collision warning when exiting vehicle
Collision warning when exiting vehicle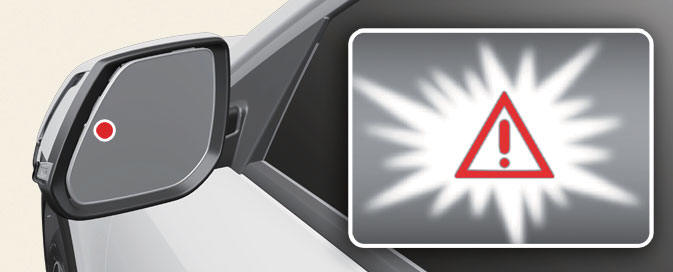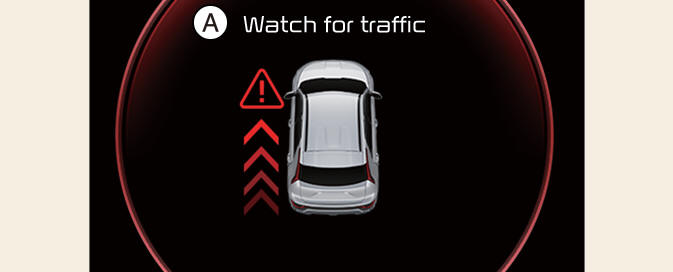 A: Watch for traffic
The warning light on the side view mirror will blink and the warning message will appear on the cluster, and an audible warning will sound.
Safe Exit Warning will warn under the following circumstances:
Your driving speed: below 3 km/h (2 mph)
The speed of the approaching vehicle from the rear: above 6 km/h (4 mph)
WARNING
For your safety, change the Settings after parking the vehicle at a safe location.
If any other function's warning message is displayed or audible warning is generated, Safe Exit Warning warning message may not be displayed and audible warning may not be generated.
You may not hear the warning sound of Safe Exit Warning if the surrounding is noisy.
Safe Exit Warning does not operate in all situations or cannot prevent all collisions.
Safe Exit Warning may warn the driver late or may not warn the driver depending and driving conditions.

Always check vehicle surroundings.

The driver and passengers are responsible for accidents that occurs while exiting the vehicle. Always check the surroundings before you exit the vehicle.
NOTICE
After the vehicle is turned off, Safe Exit Warning operates for approximately 3 minutes, but turns off immediately if the doors are locked.
Images or colors may be displayed differently depends on the instrument cluster specifications or theme.
READ NEXT:
Safe Exit Warning malfunction A: Check Blind-Spot Safety system When Safe Exit Warning is not working properly, the warning message will appear on the cluster, and the master warning light ( ) will appear on the cluster. Have Safe Exit
After the vehicle stops, when an approaching vehicle from the rear area is detected after a passenger opens the door, Safe Exit Assist will warn the driver with a warning message and an audible warning to help prevent a collision. When
Exit Safety Kia NIRO Hybrid Kia Niro EV A: Driver Assistance Driving Safety Exit Safety With the vehicle on, touch Settings ? Driver Assistance ? Warning Volume on the instrument cluster or Settings ? Vehicle ? Driver A
SEE MORE:
Rain and wet roads can make driving dangerous, especially if you're not prepared for the slick pavement. Here are a few things to consider when driving in the rain: A heavy rainfall will make it harder to see and will increase the dis
Safe Exit Warning malfunction A: Check Blind-Spot Safety system When Safe Exit Warning is not working properly, the warning message will appear on the cluster, and the master warning light ( ) will appear on the cluster. Have Safe Exit