KIA Niro: Vehicle settings (infotainment system)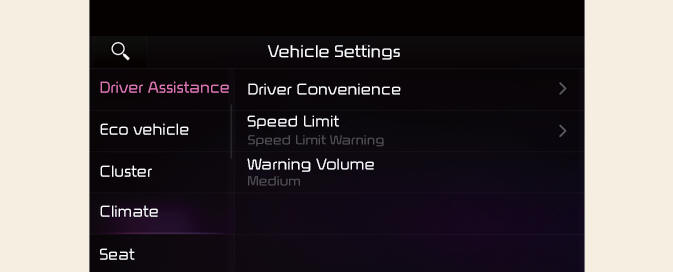 Press the Settings button on the head unit of the infotainment system.
Select Vehicle and change the setting of the features.
Vehicle Settings in the infotainment system provides user options for a variety of settings including door lock/unlock features, convenience features, driver assistance settings, etc.
Vehicle Settings
Driver Assistance
Eco Vehicle
Head-Up Display
Cluster
Climate
Seat
Lights
Door
Convenience
WARNING
Do not operate the Vehicle Settings while driving. This may cause distraction resulting in an accident.
NOTICE
The information provided may differ depending on which features are applicable to your vehicle.
INFORMATION
The infotainment system may change after software updates. For more information, refer to the manual provided in the infotainment system and the quick reference guide.
Driver assistance settings (infotainment system)
(Kia Niro EV only)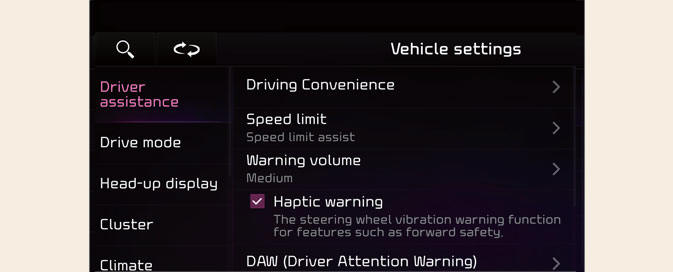 Select Settings ? Vehicle ? Driver assistance on the infotainment system screen to set the Driver Assistance function.
Driver assistance
Driving convenience
Speed limit
Warning volume
Haptic warning
DAW (Driver Attention Warning)
Driving safety
Parking safety
READ NEXT:
The Head-Up Display is a transparent display that projects an image of certain information from the instrument cluster and navigation system on the windshield glass. The head up display image on the HUD screen may be invisible when:
Battery saver function(Kia Niro EV) Operation The position lamp will turn off automatically. Operating condition(s) The vehicle is off and the driver's door is opened. INFORMATION However, the position lamps stay ON even wh
SEE MORE:
Be sure to disconnect the battery cable from the negative (-) terminal of the battery. Never pull on the wires when disconnecting connectors. Locking connectors will click when the connector is secure. Handle sensors and relays carefully.
AC Charger AC charger cable You can charge your vehicle by plugging into a public charger at a charging station. How to connect AC charger Depress the brake pedal and apply the parking brake. Turn OFF all switches, move th