KIA Niro: Antenna/ USB port
Antenna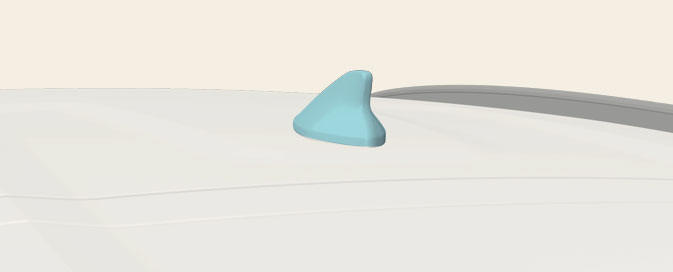 The shark-fin antenna transmits and receives wireless signals such as AM/FM, DAB, GNSS, LTE etc.
* The signals which antenna can transmit and receive vary by the vehicle option.
CAUTION
Be careful of antenna damage by checking the height of the vehicle before entering low-ceiling spaces such as automated parking lots or automated washing machines.
Be careful not to contact the antenna when loading cargo on the roof rack.

Antenna transmission/reception performance may be degraded.
USB port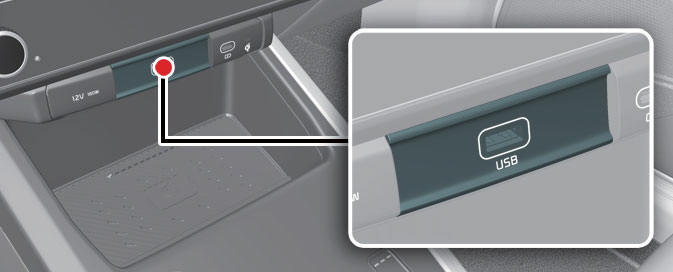 You can use the USB port to plug in an USB.
WARNING
Cell phone use
Do not use a cellular phone while driving.
Stop at a safe location to use a cellular phone.
CAUTION
Depending on the size, length, or shape of the USB stick, if you forcibly close the tray cover, the USB device may be damaged or deformed or the cover may not reopen as the device is stuck. When the stick is stuck, forcibly opening the cover can also cause damage to the device. If the USB stick does not fit into the space, do not close the cover and try another USB stick with different specifications.
When using a communication system such as a cellular phone or a radio set inside the vehicle, a separate external antenna must be fitted. When a cellular phone or a radio set is used with only the internal antenna, it may interfere with the vehicle's electrical system and adversely affect the safe operation of the vehicle.
READ NEXT:
FM reception AM and FM radio signals are broadcast from transmitter towers located around your city. They are intercepted by the radio antenna on your vehicle. This signal is then processed by the radio and sent to your vehicle speakers.
SEE MORE:
Type A Type B Operation Press or touch the lamp (1) to turn the map lamp ON. (2): DOOR mode (3): Front and rear room lamps on and off. INFORMATION- (Kia Niro Hybrid only) DOOR mode The map lamp and room lamp come on
This AC charging connector lock function prevents an outsider from removing the charging connector from the charging inlet. Connector lock Always lock The connector locks when the charging connector is plugged into the charging inlet. The