KIA Niro: Checking the inverter coolant level (HEV)
If frequent additions are required, we recommend that the system be inspected by a professional workshop.
Kia recommends to visit an authorized Kia dealer/service partner.
The inverter coolant level should be in between MAX and MIN when the engine is cooled down.
WARNING
Adding other cooling substances or water might lead to inverter cooling system degradation or even failure.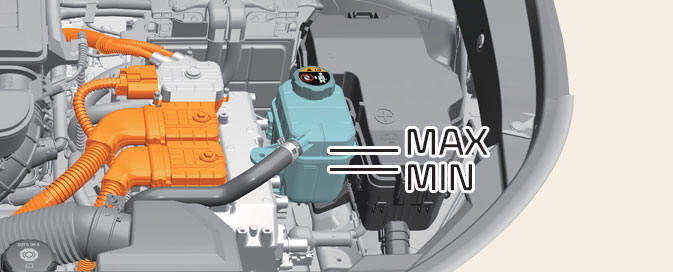 Turn the vehicle off and wait until it cools down.
Use extreme care when removing the inverter coolant reservoir cap. Wrap a thick towel around it, and turn it slowly to the first stop.
Step back while the pressure is released from the cooling system.
When you are sure all the pressure has been released, press down on the cap, using a thick towel, and continue turning to remove it.
Check the condition and connections of all cooling system hoses and heater hoses.
Replace any swollen or deteriorated hoses.
Check the coolant level. The coolant level should be filled between MAX and MIN marks on the side of the coolant reservoir when the engine room is cool.
If the coolant level is low, add enough specified coolant to provide protection against freezing and corrosion.

Bring the level to MAX, but do not overfill.
WARNING
Make sure the inverter coolant reservoir cap is properly closed after refill or coolant.
Otherwise the inverter could be overheated while driving.
Check if the inverter coolant reservoir cap label is straight In front.
Make sure that the tiny protrusions inside the inverter coolant reservoir cap are securely interlocked.
WARNING

Removing inverter coolant reservoir cap
Never remove the inverter coolant reservoir cap while the engine and radiator are hot. Hot coolant and steam may blow out under pressure, causing serious injury.
READ NEXT:
If frequent additions are required, we recommend that the system be inspected by a professional workshop. Kia recommends to visit an authorized Kia dealer/service partner. The inverter coolant level should be in between MAX and MIN when the
Checking brake fluid level (Kia NIRO Hybrid) Checking brake fluid level (Kia Niro EV) Operation Clean the area around the reservoir cap. Periodically check that the fluid level in the brake fluid reservoir is between MIN and MAX
Check the condition and connections of all the cooling system hoses and heater hoses. Replace any swollen or deteriorated hoses. The coolant level should be filled between the MAX or F and the MIN or L marks on the side of the coolant reser
SEE MORE:
If it is necessary to rock the vehicle to free it from snow, sand, or mud, first turn the steering wheel right and left to clear the area around your front wheels. Then, shift back and forth between R (Reverse) and any forward gear. Do not
Removal Warning Be sure to read and follow the "General Safety Information and Caution" before doing any work related with the high voltage system. Failure to follow the safety instructions may result in serious electrical inj