KIA Niro: Coat hook
A coat hook is next to the left rear grab handle.
WARNING
Do not hang other objects such as hangers or hard objects except clothes. Also, do not put heavy, sharp or breakable objects in the clothing's pockets. In an accident or when the curtain air bag is inflated, it may cause vehicle damage or body injury.
CAUTION
Do not hang heavy clothes, since they may damage the hook.
Floor mat anchors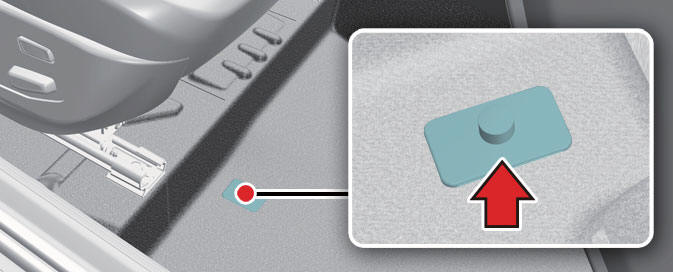 Make sure the floor mat is attached to the anchors to keep it from sliding forward.
WARNING
After market floor mat
Do not install after market floor mats that are not capable of being securely attached to the vehicle's floor mat anchors. Unsecured floor mats can interfere with pedal operation.
Use floor mats not too thick and designed to be properly secured on the floor to avoid the interference with pedals. Make sure that installing the floor mats without removing plastic films on carpets may damage or break floor mat fix rings, resulting in the mats to be unsecured. Especially for a driver's seat, the unsecured mats may cause unintended acceleration/ brake. Ensure to remove all the plastic films on the carpets before installing the mats.
READ NEXT:
Roof rack You can load cargo on top of your vehicle. WARNING The following specification is the maximum weight that can be loaded onto the roof rack. Distribute the load as evenly as possible across the crossbars (if equipped) and roof rack
Using the infotainment/climate switchable controller Press the button on the switchable controller to switch between infotainment system or climate control panel. Press and hold the button to select the default mode for the control panel.
SEE MORE:
Parking Collision-Avoidance Assist may not assist braking or warn the driver even if there are pedestrians or objects under the following circumstances: There is a problem with the vehicle Any non-factory equipment or accessory is installe
Warning Be sure to read and follow the "General Safety Information and Caution" before doing any work related with the high voltage system. Failure to follow the safety instructions may result in serious electrical injuries. B