KIA Niro: Ignition System
Description
Ignition timing is controlled by the electronic control ignition timing system. The standard reference ignition timing data for the engine operating conditions are preprogrammed in the memory of the ECM
(Engine Control Module).
The engine operating conditions (speed, load, warm-up condition, etc.) are detected by the various
sensors. Based on these sensor signals and the ignition timing data, signals to interrupt the primary
current are sent to the ECM. The ignition coil is activated, and timing is controlled.
On-vehicle Inspection
Inspect ignition coil assembly and Perform spark test
Check for DTCs.
Warning
If a DTC is present, perform Troubleshooting in accordance with the procedure for that DTC. (Refer to DTC guide)
Check if sparks occur.
(1) Remove the engine cover.
(2) Remove the ignition coils.
(Refer to Ignition System - "Ignition Coil")
(3) Using a spark plug wrench, remove the spark plugs.
(4) Disconnect the injector extension connectors.
(5) Ground the spark plug to the engine.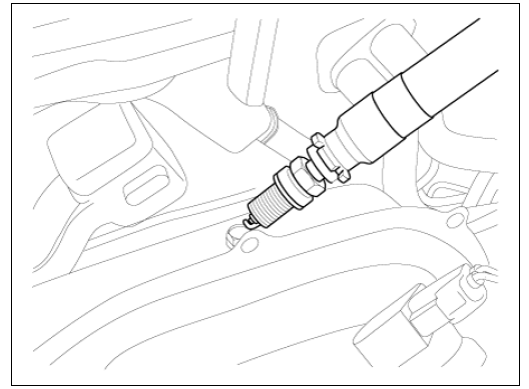 (6) Check if sparks occur at each spark plug while engine is being cranked.
Warning
Do not crank the engine for more then 5 seonds.
If sparks do not occur, perform the following test.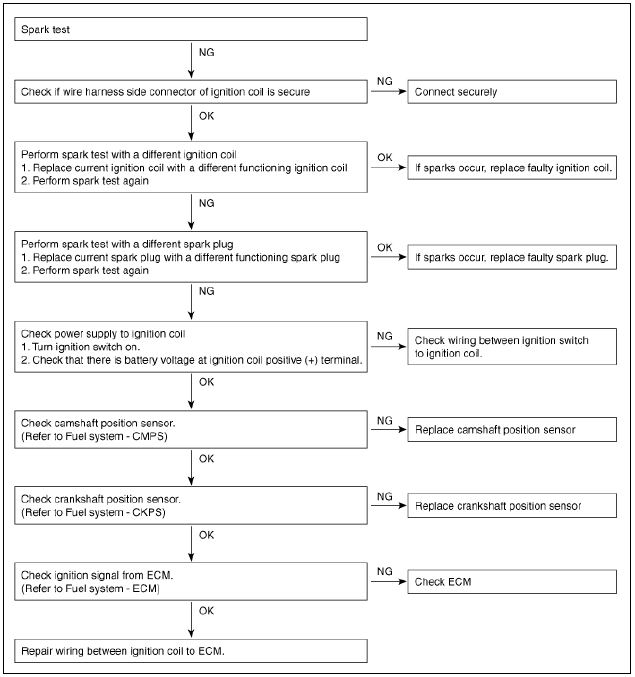 Using a spark plug wrench, install spark plugs.
Install the ignition coils.
Install the engine cover.
Specification

Description
An ignition coil is an induction coil in an engine's ignition system which transforms the battery's low voltage to the high voltage needed to create an electric spark in the spark plugs to ignite the fuel. Coils have an internal resistor while others rely on a resistor wire or an external resistor to limit the current flowing into the coil from the battery 12 V supply.
Circuit Diagram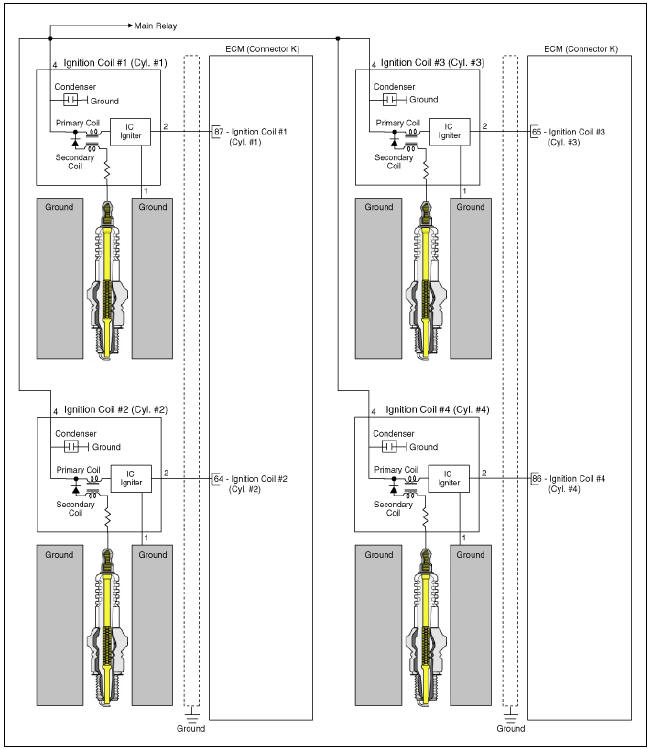 Ignition Coil Connector Terminal Function
Connector View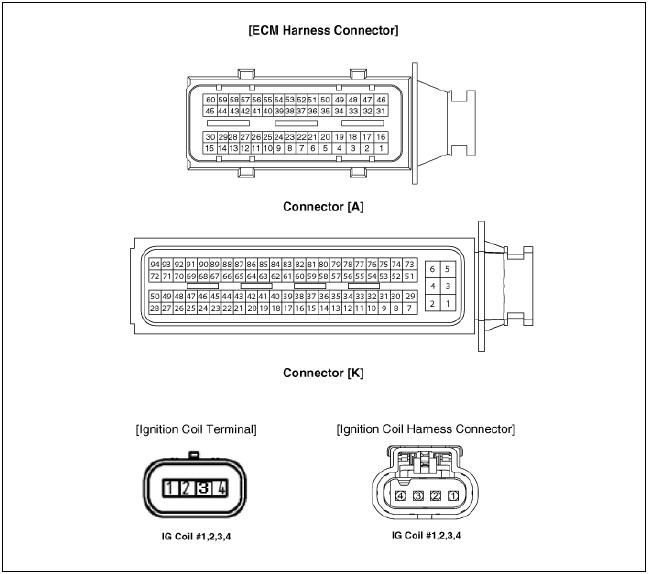 Ignition Coil Terminal Function
Ignition Coil (Cylinder #1)

Ignition Coil (Cylinder #2)

Ignition Coil (Cylinder #3)

Ignition Coil (Cylinder #4)

Troubleshooting
Connector assembly status test
Remove the connector (A) and reinstall it.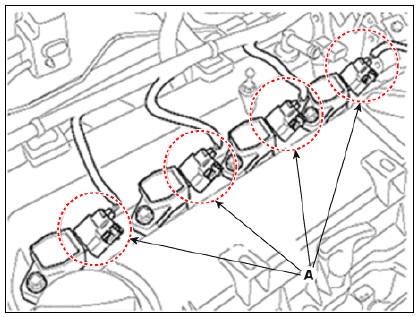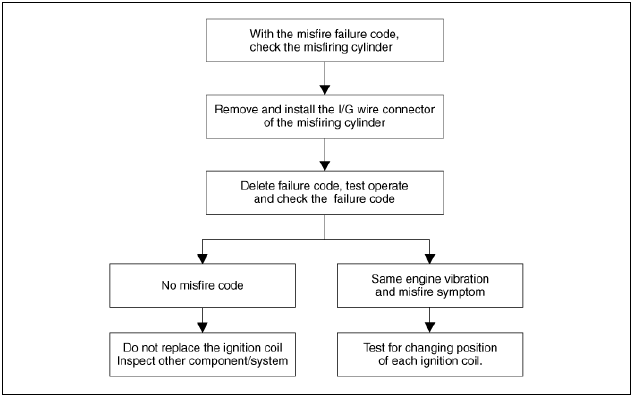 Test for changing position of each ignition coil
Ignition coil w/ misfire code
Ignition coil w/o misfire code
Warning
Do not move with spark plug at the same time (move the ignition coil only)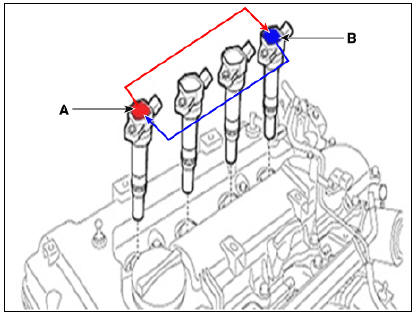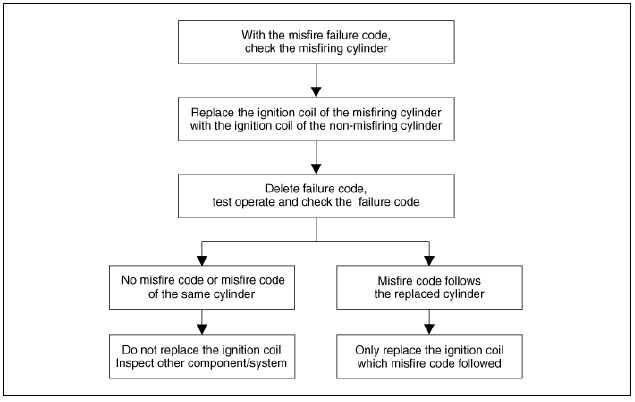 READ NEXT:
Removal Turn ignition switch OFF and disconnect the battery negative (-) terminal. Remove the engine cover. Disconnect the ignition coil connector (A). Remove the ignition coil (A) after loosening the mounting bolt. I
Components Location PCV Valve Canister Purge Control Solenoid Valve (PCSV) Fuel Tank Pressure Sensor (FTPS) Fuel Level Sensor (FLS) Fuel tank air Filter Catalytic converter (WCC) Gasoline Particulate Filter (GPF) PCV Valve
SEE MORE:
The high voltage battery warmer system prevents reduction of battery output when battery temperature is low. If the charging connector is connected, the warmer system automatically operates according to the battery temperature. Charging time
WARNING For your safety, do not touch the high voltage cables, connectors and package modules. High voltage components are orange in color. Exposed cables or wires may be visible inside or outside of the vehicle. Never touch the wires