KIA Niro: Securing a Child Restraint System seat with "Top-tether Anchorage" system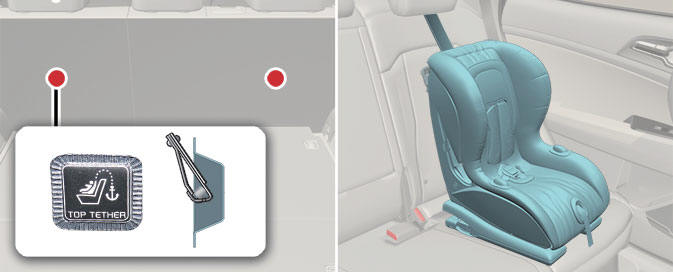 Type A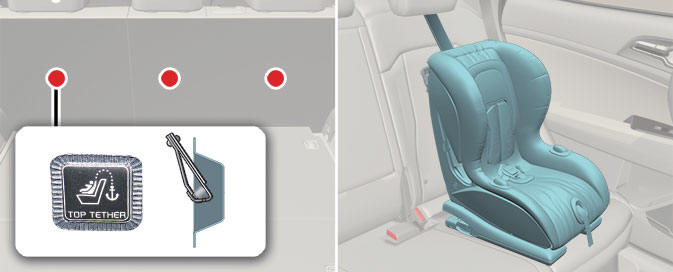 Type B
Operation
Route the Child Restraint System seat strap over the seatback.
Connect the top-tether to the toptether anchorage.
Tighten the top-tether according to the instructions of your Child Restraint System's manufacturer.
WARNING
Take the following precautions when installing the top-tether:
Read and follow all installation instructions provided with your Child Restraint System.
NEVER attach more than one Child Restraint System to a single ISOFIX top-tether anchorage. This could cause the anchorage or attachment to come loose or break.
Do not attach the top-tether to anything other than the correct top-tether anchorage. It may not work properly if attached to something else.
Child restraint anchorages are designed to withstand only those loads imposed by correctly fitted child restraints. Under no circumstances are they to be used for adult seat belts, harnesses, or for attaching other items or equipment to the vehicle.
Securing a Child Restraint System with a lap/shoulder belt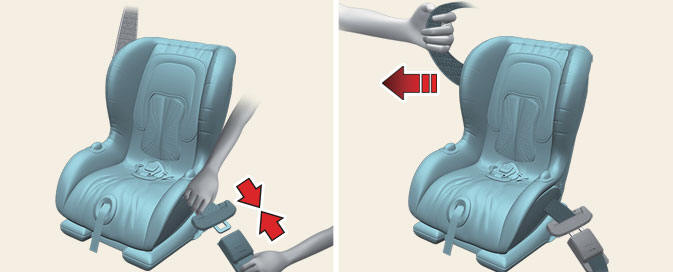 Operation
Place the Child Restraint System on a rear seat and route the lap/shoulder belt around or through the Child Restraint System.
Fasten the lap/shoulder belt latch into the buckle.
Remove as much slack from the belt as possible by pushing down on the Child Restraint System while feeding the shoulder belt back into the retractor.

4. Push and pull on the Child Restraint System to confirm that the seat belt is holding it firmly in place.

If your Child Restraint System manufacturer recommends the use of a top-tether with the lap/shoulder belt, see Securing a child restraint system seat with the "top-tether anchorage" system section in this chapter.
To remove the Child Restraint System, press the release button on the buckle, and then pull the lap/shoulder belt out of the Child Restraint System and allow the seat belt to retract fully.
READ NEXT:
Yes : Suitable for fitment of the designated category of CRS No : Not suitable for fitment of the designated category of CRS "-": Not applicable The table is based on LHD vehicle. Except for the front passenger seat, the table i
Yes: Suitable for fitment of the designated category of CRS No: Not suitable for fitment of the designated category of CRS "-": Not applicable The table is based on LHD vehicle. Except for the front passenger seat, the table is
Left-hand drive Right-hand drive * The actual features in your vehicle may not necessarily be available due to the selected options or regions. Passenger's front air bag Driver's front air bag Side air bag* Curtain air
SEE MORE:
Warning Be sure to read and follow the "General Safety Information and Caution" before doing any work related with the high voltage system. Failure to follow the safety instructions may result in serious electrical injuries. Be sure t
Paddle shifter is used to shift without taking your hands off the steering wheel. Operation Pull the right side (+) of the paddle shifter once to shift up. Pull the left side (-) of the paddle shifter once to shift down. Operating