KIA Niro: Sunshade
Sunroof (if equipped)
If your vehicle is equipped with a sunroof, you can slide or tilt your sunroof with the sunroof switch located on the overhead console.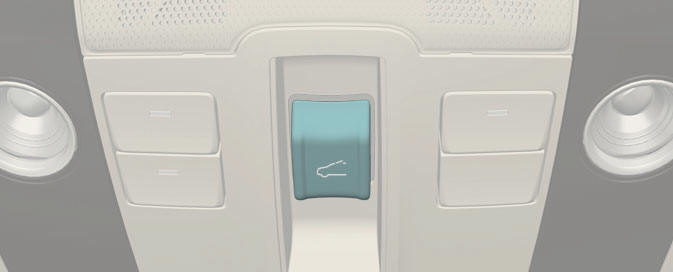 The sunroof can only be operated when the ignition switch or ENGINE START/ STOP button is in the ON or START position.
The sunroof can be operated for approximately 3 minutes after the ignition switch or Engine Start/Stop button is in the ACC or LOCK/OFF position.
However, if the front door is open, the sunroof cannot be operated even within the 3 minutes period.
WARNING
Adjust the sunroof or sunshade when your vehicle stops. This could result in loss of control and an accident that may cause injury, or property damage.
Do not leave the engine running and the key in your vehicle with unsupervised children. Unattended children could operate the sunroof, which could result in serious injury.
Do not sit on the top of the vehicle. It may cause injury or vehicle damage.
NOTICE
Do not operate the sunroof when roof bars are installed on the vehicle or when there is luggage on the roof.
Sunshade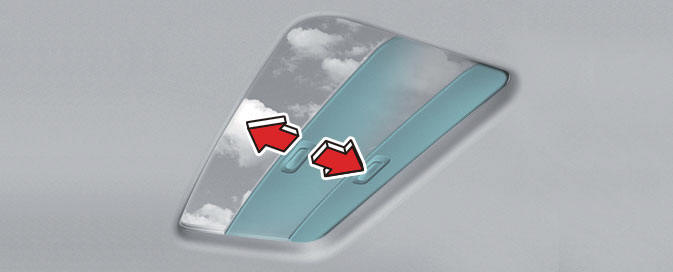 Use the sunshade to block direct sunlight coming through the sunroof glass.
Open or close the sunshade by hand.
INFORMATION
The sunshade opens automatically when the sunroof glass is opened, but the sunshade does not close automatically when the sunroof glass is closed. Also, only the sunshade cannot be closed when the sunroof glass is opened.
NOTICE
Do not pull the sunshade up or down, or apply excessive force as such action may damage the sunshade or cause it to malfunction.
READ NEXT:
Tilt open Tilt close Push the sunroof switch upward, the sunroof glass tilts open. Push the sunroof switch forward when the sunroof glass is tilt opened, the sunroof glass closes. The sunroof glass tilts open or closes while t
If the sunroof glass senses any obstacle while it is closing automatically, it will reverse direction then stop at a certain position. The auto reverse function may not work if an object thin or soft is caught between the sliding sunroof
In some circumstances resetting the sunroof operation may need to be performed. Some instances where resetting the sunroof may be required include: When the 12-volt battery is either disconnected or discharged When the sunroof fuse i
SEE MORE:
Yes: Suitable for fitment of the designated category of CRS No: Not suitable for fitment of the designated category of CRS "-": Not applicable The table is based on LHD vehicle. Except for the front passenger seat, the table is
Operation The seat can be adjusted by using the control levers located on the outside of the seat cushion. INFORMATION Adjust the seat before driving, and make sure the seat is locked securely by trying to move without using the lever. If the