KIA Niro: The Air Cleaner Element
Inspection
Remove the air cleaner element.
Check that the air filter is excessively dirty.

If the air filter is excessively dirty, replace the air cleaner element.

If the air cleaner element needs to be cleaned, blow compressed air as shown in the illustration to clean it.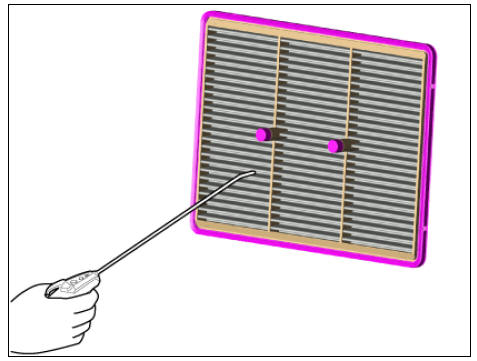 Warning
Be careful with the direction of the compressed air on the air cleaner.
Reinstall the air cleaner element.
Replacement
Open the air cleaner element cover (A) by unlocking the clamps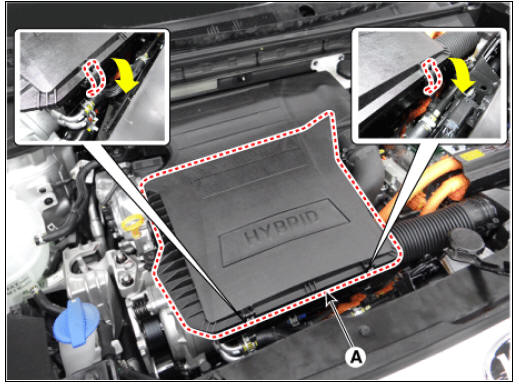 Replace the air cleaner element (A) with a new one.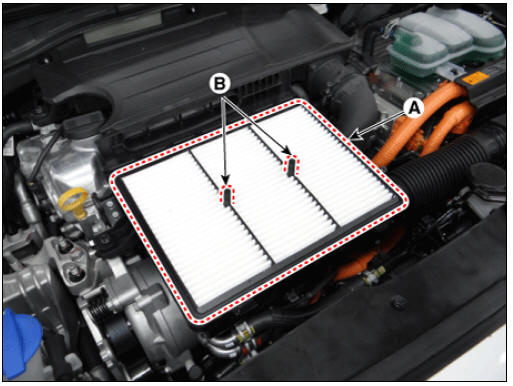 Warning
Grab the handle (B) then pull out the air cleaner element.
Close the air cleaner element cover by hooking the clamps.
Inspection
Battery Voltage and Status
Check the battery voltage and status using the battery tester.
READ NEXT:
Move back and forth to check that the battery terminals (A) are loose or corroded.If the terminals are corroded, clean them. If battery positive connection is loose, disconnect ground(GND) cable first before attempting to remove
Using the Ammeter Turn the all electric devices OFF, and then turn the ignition switch OFF. Close all doors except the tailgate, and then lock all doors. Disconnect the tailgate latch connector. Wait a few minutes until the vehicle's electr
Inspection Check radiator hoses for the following (1) Improper attachment (2) Leaks (3) Cracks (4) Damage (5) Loose connections (6) Chafing (7) Deterioration Coolant level Check the coolant level in the coolant reservoir. Make sure
SEE MORE:
REMOVAL CAUTION / NOTICE / HINT The necessary procedures (adjustment, calibration, initialization, or registration) that must be performed after parts are removed, installed, or replaced during the transponder key ECU assembly removal/installat
Replacing rear wiper blade Operation Turn off the vehicle. Move the wiper switch to the single wiping (MIST/1x) position. Hold the wiper switch for more than 2 seconds. Raise the wiper arm and pull out the wiper blade assembly.