KIA Niro: Wheel alignment and tire balance
The wheels on your vehicle were aligned and balanced carefully at the factory to give you the longest tire life and best overall performance.
If you notice your vehicle vibrating when driving on a smooth road, your wheels may need to be rebalanced.
CAUTION
Improper wheel weights can damage your vehicle's aluminum wheels. Use only approved wheel weights.
Tire replacement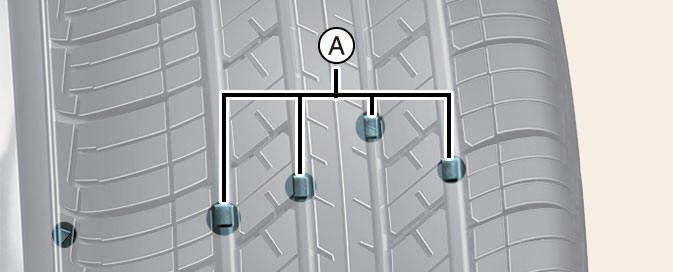 Tread wear indicator
If the tire is worn evenly, a tread wear Indicator will appear as a solid band across the tread.
This shows there is less than 1.6 mm (1/ 16 in.) of tread left on the tire. Replace the tire when this happens.
Do not wait for the band to appear across the entire tread before replacing the tire.
Compact spare tire replacement (if equipped)
A compact spare tire has a shorter tread life than a regular size tire. Replace it when you can see the tread wear indicator bars on the tire. The replacement compact spare tire should be the same size and design tire as the one provided with your new vehicle and should be mounted on the same compact spare tire wheel. The compact spare tire is not designed to be mounted on a regular size wheel, and the compact spare tire wheel is not designed for mounting a regular size tire.
WARNING
To reduce the chance of serious or fatal injuries from an accident caused by tire failure or loss of vehicle control:
Replace tires that are worn, show uneven wear, or are damaged. Worn tires can cause loss of braking effectiveness, steering control, and traction.
Do not drive your vehicle with too little or too much pressure in your tires.

This can lead to uneven wear and tire failure.

When replacing tires, never mix radial and bias-ply tires on the same car.

You must replace all tires (including the spare) if moving from radial to bias-ply tires.

It is best to replace all four tires at the same time. If that is not possible, or necessary, then replace the two front or two rear tires as a pair.

Replacing just one tire can seriously affect your vehicle's handling.

Using tires and wheels other than the recommended sizes could cause unusual handling characteristics and poor vehicle control, resulting in a serious accident.
Wheels that do not meet Kia's specifications may fit poorly and result in damage to the vehicle or unusual handling and poor vehicle control.
The ABS works by comparing the speed of the wheels. The tire size affects wheel speed. When replacing tires, all 4 tires must use the same size, type, construction and tread pattern originally supplied with the vehicle.

Using tires of a different size can cause the ABS (Anti-lock Brake System) and ESC (Electronic Stability Control) to work irregularly.
CAUTION
When replacing the tires, recheck and tighten the wheel nuts after driving about 50 km (31 miles) and recheck after driving about 1,000 km (620 miles). If the steering wheel shakes or the vehicle vibrates while driving, the tire is out of balance. Align the tire balance. If the problem is not solved, contact a professional workshop. Kia recommends to visit an authorized Kia dealer/service partner.
NOTICE
We recommend that when replacing tires, use the same originally supplied with the vehicles. If not, that affects driving performance.
Wheel replacement
When replacing the metal wheels for any reason, make sure the new wheels are equivalent to the original factory units in diameter, rim width and offset.
WARNING
A wheel that is not the correct size may adversely affect wheel and bearing life, braking and stopping abilities, handling characteristics, ground clearance, bodyto- tire clearance, snow chain clearance, speedometer and odometer calibration, headlight aim and bumper height.
Tire traction
Tire traction can be reduced if you drive on worn tires, tires that are improperly inflated or on slippery road surfaces.
Tires should be replaced when tread wear indicators appear. Slow down whenever there is rain, snow or ice on the road to reduce the possibility of losing control of the vehicle.
Tire maintenance
In addition to proper inflation, correct wheel alignment helps to decrease tire wear. If you find a tire is worn unevenly, have a professional workshop check the wheel alignment. Kia recommends to visit an authorized Kia dealer/service partner.
When you have new tires installed, make sure they are balanced. This will increase vehicle ride comfort and tire life. Additionally, a tire should always be rebalanced if it is removed from the wheel.
READ NEXT:
This information identifies and describes the fundamental characteristics of the tire and also provides the tire identification number (TIN) for safety standard certification. The TIN can be used to identify the tire in case of a recall.
Blade type Cartridge type Multi fuse BFT * Left: Normal, Right: Blown * The actual fuse/relay panel label may differ. Before replacing a blown fuse, disconnect the negative battery cable. If the electrical system does not work,
Operation Turn the vehicle and all other switches off. Open the fuse panel cover. Pull the suspected fuse straight out. Use the removal tool (1) provided in the main fuse box in the engine compartment. Check the remove
SEE MORE:
A: Emergency braking The warning light on the outside rear view mirror (side view mirror), head-up display (if equipped), an audible warning and the steering wheel vibration will warn the driver of a collision. It assists in braking control
A: Electric vehicle Energy information In order to check the ECO driving history, select Menu ? Energy information on the screen. Electric energy economy history A: Energy information Energy consumption history It is possible