KIA Niro: Checking tire inflation pressure
Remove the valve cap from the tire valve stem. Press the tire gauge firmly onto the valve to get a pressure measurement.

If the pressure is low, add air until you reach the recommended amount.

If you overfill the tire, release air by pushing on the metal stem in the center of the tire valve. Be sure to put the valve caps back on the valve stems.
WARNING
Overinflation or underinflation can reduce tire life, adversely affect vehicle handling, and lead to sudden tire failure. This could result in loss of vehicle control and potential injury.
Severe underinflation (70 kPa (10 psi) or more) can lead to severe heat build-up, causing blowouts, tread separation and other tire failures that can result in the loss of vehicle control leading to severe injury or death. This risk is much higher on hot days and when driving for long periods at high speeds.
Inspect your tires frequently for proper inflation as well as wear and damage. Always use a tire pressure gauge.
Tires with too much or too little pressure wear unevenly causing poor handling, loss of vehicle control, and sudden tire failure leading to accidents, injuries, and even death. The recommended cold tire pressure for your vehicle can be found in this manual and on the tire label located on the driver's side center pillar.
Worn tires can cause accidents.

Replace tires that are worn, show uneven wear, or are damaged.

Remember to check the pressure of your spare tire. Kia recommends that you check the spare every time you check the pressure of the other tires on your vehicle.
CAUTION
Underinflation also results in excessive wear, poor handling and reduced fuel economy. Wheel deformation also is possible. Keep your tire pressures at the proper levels. If a tire frequently needs refilling, have the system checked by a professional workshop. Kia recommends to visit an authorized Kia dealer/service partner.
Overinflation produces a harsh ride, excessive wear at the center of the tire tread, and a greater possibility of damage from road hazards.
Warm tires normally exceed recommended cold tire pressures by 28 to 41 kPa (4 to 6 psi). Do not release air from warm tires to adjust the pressure or the tires will be underinflated.
Be sure to reinstall the tire inflation valve caps. Without the valve cap, dirt or moisture could get into the valve core and cause air leakage. If a valve cap is missing, install a new one as soon as possible.
Always observe the following:
Check tire pressure when the tires are cold. (After vehicle has been parked for at least three hours or hasn't been driven more than 1.6 km (one mile) since startup.)
Check the pressure of your spare tire each time you check the pressure of other tires.
Never overload your vehicle. Be careful not to overload a vehicle luggage rack if your vehicle is equipped with one.
Worn, old tires can cause accidents.

If your tread is badly worn, or if your tires have been damaged, replace them.
Tire rotation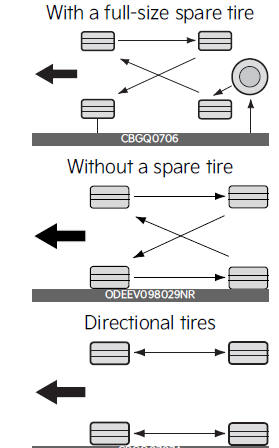 To equalize tread wear, it is recommended that the tires be rotated every 10,000 km (6,500 miles) or sooner if irregular wear develops.
WARNING
Do not use the compact spare tire for tire rotation.
Do not mix bias ply and radial ply tires under any circumstances. This may cause unusual handling characteristics that could result in death, severe injury, or property damage.
NOTICE
Rotate radial tires that have an asymmetric tread pattern only from front to rear and not from right to left.
READ NEXT:
The wheels on your vehicle were aligned and balanced carefully at the factory to give you the longest tire life and best overall performance. If you notice your vehicle vibrating when driving on a smooth road, your wheels may need to be rebal
This information identifies and describes the fundamental characteristics of the tire and also provides the tire identification number (TIN) for safety standard certification. The TIN can be used to identify the tire in case of a recall.
Blade type Cartridge type Multi fuse BFT * Left: Normal, Right: Blown * The actual fuse/relay panel label may differ. Before replacing a blown fuse, disconnect the negative battery cable. If the electrical system does not work,
SEE MORE:
If your vehicle is operated in any of the severe driving conditions, you should inspect, replace or refill more frequently, using the severe usage maintenance schedule instead of the normal usage maintenance schedule. Normal maintenance schedule
Engine Mounting Components and components location Transaxle mounting bracket Roll rod bracket Engine mounting bracket Engine mounting support bracket Engine Mounting Repair Procedures Removal and Installation Engine Mounting Brac