KIA Niro: Connector Inspection Procedure
Handling of Connector
Never pull on the wiring harness when disconnecting connectors.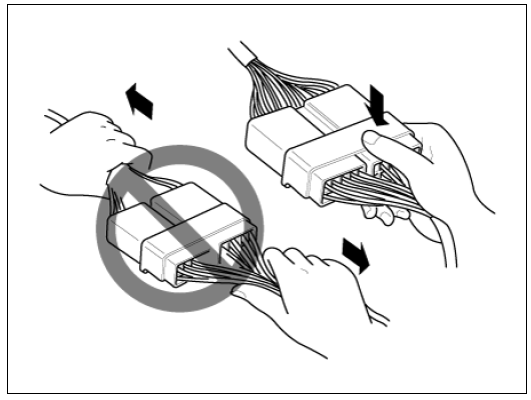 When removing the connector with a latch, press or pull locking lever.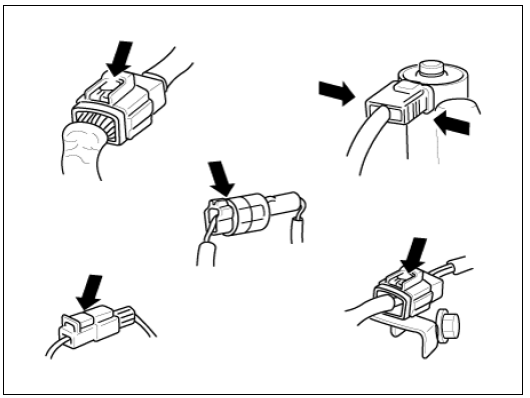 Listen for a click when locking connectors. This sound indicates that they are securely locked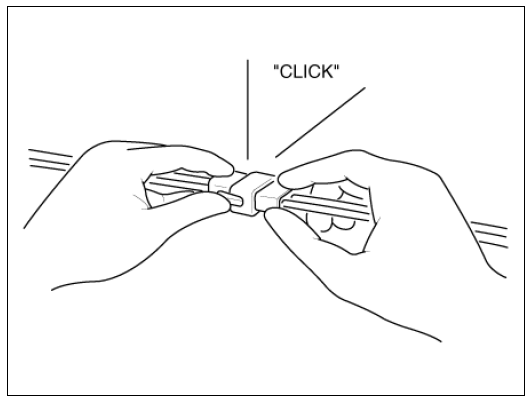 When a tester is used to check for continuity, or to measure voltage, always insert tester probe from wire harness side.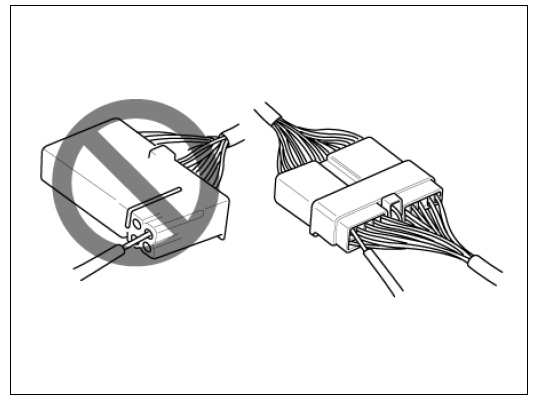 Check waterproof connector terminals from the connector side. Waterproof connectors cannot be accessed from harness side.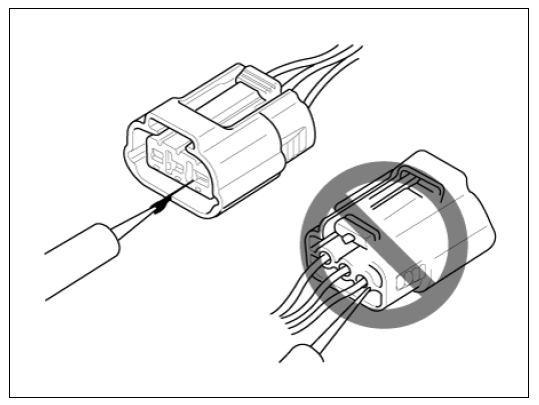 Warning
Use a fine wire to prevent damaging the terminal.
Do not damage the terminal when inserting the tester lead.
Checking Point for Connector
While the connector is connected: Hold the connector, and check connecting condition and locking efficiency.
When the connector is disconnected: Check for missing terminal, crimped terminal or broken core wire by lightly pulling the wire harness.

Visually check for rust, contamination, deformation and bending.

Check terminal tightening condition: Insert a spare male terminal into a female terminal, and then check terminal tightening conditions.
Pull lightly on individual wires to ensure that each wire is secured in the terminal.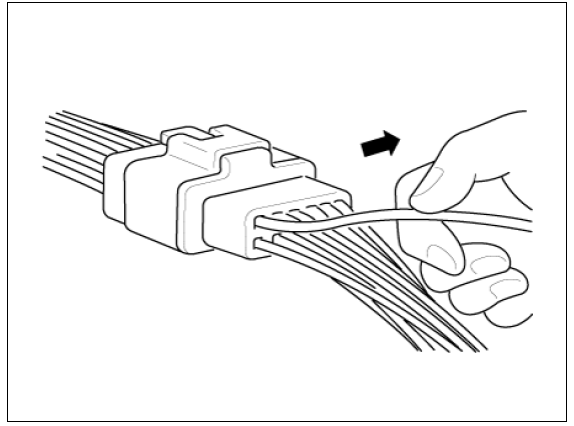 Connector Terminal Repairing Method
Clean the contact points using air gun and/or shop rag.
Warning
Never use sand paper when polishing the contact points, otherwise the contact point may be damaged.
In case of abnormal contact pressure, replace the female terminal.
Wire Harness Inspection Procedure
Before removing the wire harness, check the wire harness position and crimping in order to restore it correctly.
Check for twisted, pulled or loose wire harness.
Check if the temperature of the wire harness is abnormally high.
Check for rotating, moving or vibrating wire harness against the sharp edge of a part.
Check the connection between the wire harness and any installed part.
If the covering of wire harness is damaged; secure, repair or replace the harness.
READ NEXT:
Open Circuit Test Procedures for Open Circuit Continuity Check Voltage Check If an open circuit occurs (as seen in (FIG. 1)), it can be found by performing Step 2 (Continuity Check Method) or Step 3 (Voltage Check Method) as shown b
Components Location Engine Control Module (ECM) Manifold Absolute Pressure Sensor (MAPS) Mass Air Flow Sensor (MAFS) Intake Air Temperature Sensor (IATS) Engine Coolant Temperature Sensor (ECTS) (Water Temperature Control Assem
Description If the Gasoline Engine Control system components (sensors, ECM, injector, etc.) fail, interruption to the fuel supply or failure to supply the proper amount of fuel for various engine operating conditions will result. The following
SEE MORE:
(Kia Niro Hybrid only) Operation Before closing the hood, check the following: All filler caps in the engine compartment must be correctly installed. Gloves, rags or any other combustible material must be removed from the e
While pulling on the seatback folding lever, lift and pull the seatback backward. Pull the seatback firmly until it clicks into place. Return the rear seat belt to the proper position If you want to tilt the rear seatback a bit m