KIA Niro: Controlling fan speed (Kia Niro EV)
Operation
Press the left or right button to adjust the speed.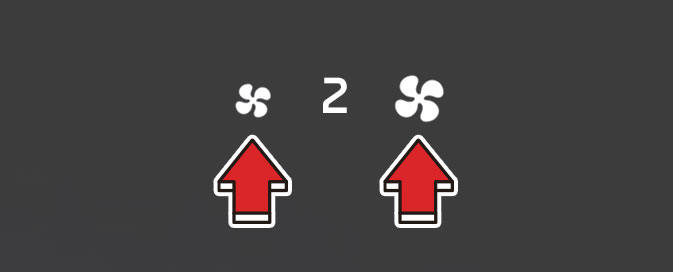 Press the knob to turn the blowers off.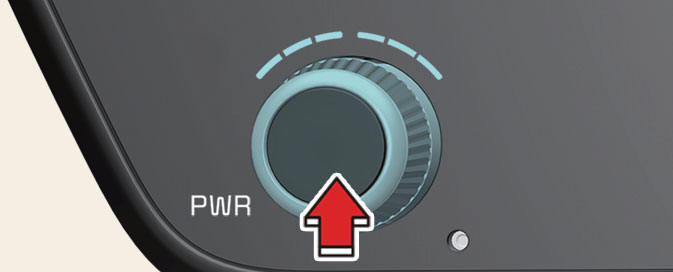 WARNING
Continuously using the climate control system in the recirculated air position may fog the glass, obscure visibility and make the air in the passenger compartment stale.
Do not sleep in a vehicle with the air conditioning or heating system on. It may cause serious harm or death due to a drop in the oxygen level and/or body temperature.
Continuously using the climate control system in the recirculated air position can cause drowsiness or sleepiness, and loss of vehicle control. Set the air intake control to the outside (fresh) air position as much as possible while driving.
CAUTION
Operating the blower when the EV button is in the ON position could cause the battery to discharge. Operate the blower when the vehicle is running.
NOTICE
Prolonged use of the air conditioning with the re circulated air position selected will result in excessively dry air in the passenger compartment.
To turn the automatic operation off, select any button or switch of the following:
Mode selection button
Air conditioning button
Front-windshield defroster button (Press the button one more time to deselect the front windshield defroster function. The AUTO sign will illuminate on the information display once again.)
Fan speed control knob
The selected function will be controlled manually while other functions operate automatically.
For your convenience and to improve the effectiveness of the climate control, use the AUTO button and set the temperature to 22 ºC (72 ºF).
Never place anything over the sensor located on the instrument panel to ensure better control of the heating and cooling system.
To help improve microphone voice input sound, fan speed may automatically slow down for a couple of minutes when you activate voice recognition or hands free.
When charging or right after charging the high voltage battery, the cooling will be made using air conditioner system in order to control the high voltage battery temperature.

At this time, the noise might occur by the air conditioner compressor and cooling fan, but this is due to normal operation.
READ NEXT:
Defrosting/defogging windshield (Kia NIRO Hybrid) Defrosting/defogging windshield (Kia Niro EV) Operation Set the fan speed to the desired position. Select desired temperature. Select ( ) or ( ). The outside (fresh) air and ai
Auto defogging for automatic climate control Operation For Europe Air conditioning will turn ON at recirculation mode. Mode will change to defrost to direct airflow to the windshield. Fan speed will increase. Except Europe Ai
SEE MORE:
Warning In case of removing the high pressure fuel pump, high pressure fuel pipe, delivery pipe, and injector, there may be injury caused by leakage of the high pressure fuel. So don't do any repair work right after engine stops. Release th
Operation Shift to P (Park) while the EV button is in the ON position. Move the driver seat as forward as possible. Move the seatback to a fully upright position. Press the '1' button and seat forward movement switch s