KIA Niro: Crankshaft
Check the crankshaft bearing oil clearance.
(1) To check main bearing-to-journal oil clearance, remove the lower crankcase and lower bearings.
(2) Clean each main journal and bearing with a clean shop towel.
(3) Place one strip of plastigage across each main journal.
(4) Reinstall the lower crankcase and lower bearings, and then tighten the main bolts.
Tightening torque : (17.7 - 21.6 N*m (1.8 - 2.2 kgf*m, 13.0 - 15.9 lb*ft) + (88 - 92º)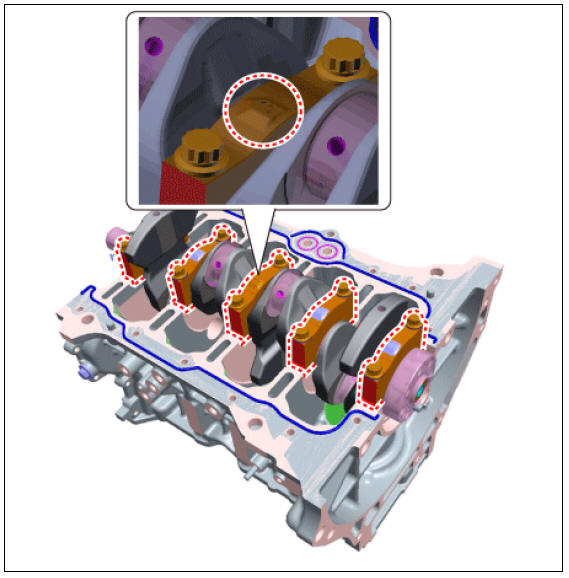 Warning
Always use new crankshaft main bearing cap bolts. Crankshaft main bearing cap bolts are torque-toyield bolts designed to be permanently elongated beyond the state of elasticity when torqued. Reusing
the removed bolts can cause the bolts to break or fail to maintain clamping force.
Do not turn the crankshaft.
(5) Remove the lower crankcase and lower bearings.
(6) Measure the width of the plastigage at its widest point.
Oil clearance :
Standard :
0.006 - 0.024 mm (0.0002 - 0.0009 in)
Limit :
0.018 - 0.044 mm (0.0007 - 0.0017 in.)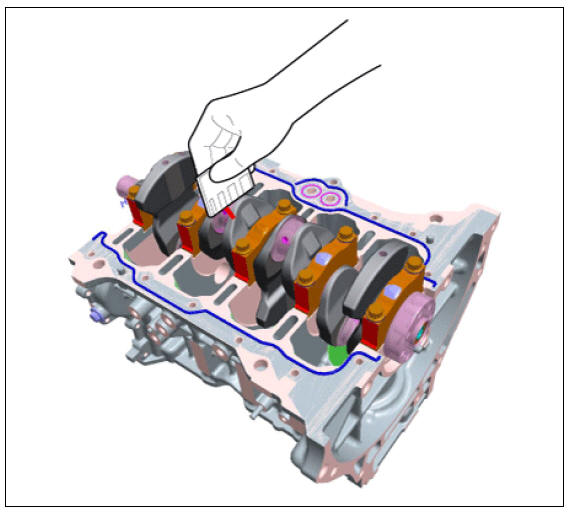 (7) If the plastigage measures too wide or too narrow, remove the upper and lower bearing and then install a new bearings with the same color mark. Recheck the oil clearance.
Warning
Do not file, shim, or scrape the bearings or the caps to adjust clearance.
(8) If the plastigage shows the clearance is still incorrect, try the next larger or smaller bearing. Recheck the oil clearance.
Warning
If the proper clearance cannot be obtained by using the appropriate larger or smaller bearings, replace the crankshaft and start over.
If the marks are indecipherable due to an accumulation of dirt and dust, clean with solvent or detergent instead of scrubbing them with a wire brush or scraper.
READ NEXT:
Letters are been stamped on the block as a mark for the size of each of the 5 main journal bores. Use them, and the numbers or bar stamped on the crank (marks for main journal size), to choose the correct bearings. Cylinder Block Specifi
Warning Be sure to read and follow the "General Safety Information and Caution" before doing any work related with the high voltage system. Failure to follow the safety instructions may result in serious electrical injuries. Be sure t
SEE MORE:
Description The High Voltage Battery System provides the hybrid drive motor, HSG, and electric A/C compressor with electric energy and also reserves the electric energy generated during regeneration braking.It consists of the battery pack asse
Operating conditions Select 'Rear Safety' from the 'Parking Safety' menu of the infotainment system. Parking Collision-Avoidance Assist is enabled when the following conditions are satisfied: The tailgate and door are close