KIA Niro: Drive mode integrated control system
DRIVE MODE
Selecting DRIVE MODE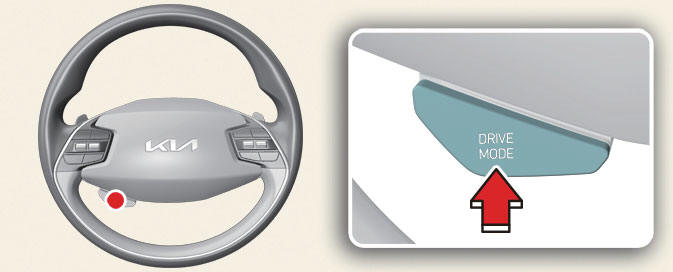 Operation
Press the DRIVE MODE button.
Press and hold DRIVE MODE button to change to SNOW mode.
DRIVE MODE will change to NORMAL mode when the vehicle is restarted. ECO mode will be maintained when the vehicle is restarted.
DRIVE MODE characteristics- (Kia Niro EV)
DRIVE MODE button

Infotainment system
NOTICE
If there is a problem with the instrument cluster, the drive mode will be in NORMAL mode and may not change to ECO mode or SPORT mode.
Efficiency depends on the driver's driving habit and road condition.
In SPORT mode, the electric energy efficiency may decrease.
When you mildly drive the vehicle in NORMAL mode, the driving mode changes to ECO mode to improve electric energy efficiency. However, the actual efficiency may differ in accordance with your driving situations.
INFORMATION
It is possible to set the climate system control and brake mode separately.
Select Settings ? Vehicle ? Drive mode ? Brake mode or ECO mode climate control from the infotainment system.
For more information, refer to the manual provided in the infotainment system and the quick reference guide.
READ NEXT:
Active air flap system controls the air flap below the front bumper to cool the vehicle parts and improve energy efficiency. Active air flap malfunction A: Check Active Air Flap System The active air flap system may not operate normally
In order to protect the atmospheric environment in urban areas, EV mode is expanded when entering the road inside the green zone based on the navigation information. Also, EV mode is expanded based on the driving history when departing from
Forward Collision-Avoidance Assist (FCA) (Sensor Fusion) (if equipped) Forward Collision-Avoidance Assist is designed to help detect and monitor the vehicle ahead or help detect pedestrian or cyclist in the roadway and warn the driver th
SEE MORE:
Speedometer MPH, km/h The speed of the vehicle in kilometers per hour (km/h) or miles per hour (mph). Distance to empty Estimated distance the vehicle can be driven with the remaining electric energy. Power/Ch
Speed limit A: Driver Assistance Speed Limit Speed Limit Assist Speed Limit Warning Off With the vehicle on, touch Settings ? Driver Assistance ? Speed Limit on the instrument cluster or Settings ? Vehicle ? Driver Assistance