KIA Niro: Forward Collision-Avoidance Assist (FCA) (Sensor Fusion)
Forward Collision-Avoidance Assist (FCA) (Sensor Fusion) (if equipped)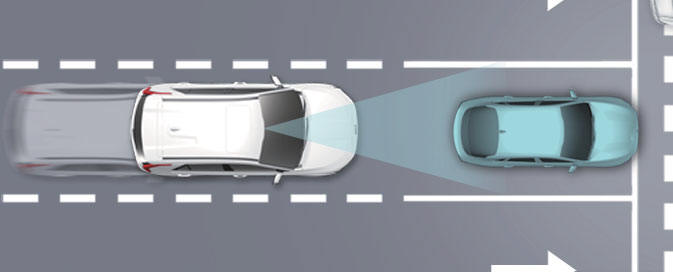 Forward Collision-Avoidance Assist is designed to help detect and monitor the vehicle ahead or help detect pedestrian or cyclist in the roadway and warn the driver that a collision is imminent with a warning message and an audible warning, apply emergency braking.
Detecting sensor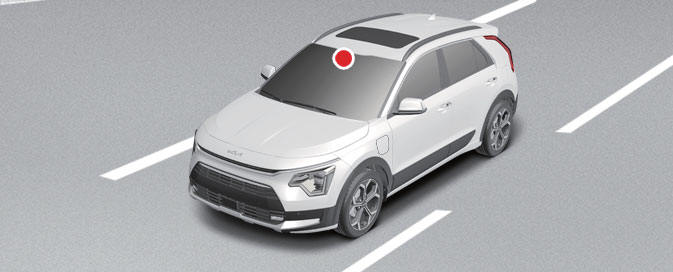 Front view camera
Refer to the picture above for the detailed location of the detecting sensors.
CAUTION
Never disassemble the detecting sensor or sensor assembly, or cause any damage to it.
If the detecting sensors have been replaced or repaired, have the vehicle inspected by a professional workshop.

Kia recommends visiting an authorized Kia dealer/service partner.

Never install any accessories or stickers on the front windshield, or tint the front windshield.
Pay extreme caution to keep the front view camera dry.
Never place any reflective objects (for example, white paper, mirror) over the dashboard.
Do not place any objects near the front windshield or install any accessories on the front windshield. It can affect the performance of the defogging and defrosting function of the climate control system, which may prevent the Driver Assistance systems from operating.
READ NEXT:
Basic function Forward Collision-Avoidance Assist is designed to help detect and monitor the vehicle ahead or help detect a powered two-wheeler, pedestrian or cyclist in the roadway and warn the driver that a collision is imminent with a wa
Front view camera Front radar Front corner radar (if equipped) Rear corner radar (if equipped) Refer to the picture above for the detailed location of the detecting sensors. CAUTION Take the following precautions to maintain o
Forward safety A: Driver Assistance Driving Safety Forward Safety With the vehicle on, touch Settings ? Driver Assistance ? Driving Safety on the instrument cluster or Settings ? Vehicle ? Driver Assistance ? Driving Safety on t
SEE MORE:
Type A Type B The AC inverter supplies 220V/200W or 115V/150W electric power to operate electric accessories or equipment. If you wish to use the AC inverter, open up the AC inverter cover and connect a plug to it. The AC inverter supplies
Defrosting/defogging windshield (Kia NIRO Hybrid) Defrosting/defogging windshield (Kia Niro EV) Operation Set the fan speed to the desired position. Select desired temperature. Select ( ) or ( ). The outside (fresh) air and ai