KIA Niro: Electric Water Pump (EWP) Repair procedures
Description
The Hybrid Power Control Unit (HPCU) uses various semiconductors that are supplied with high voltage, hence generating more heat than engine combustion devices. Overheating can decrease the efficiency of control devices, restrict proper operation and melt semiconductors in excessive heat, causing system failure. To prevent this, the hybrid system is equipped with a separate cooling system.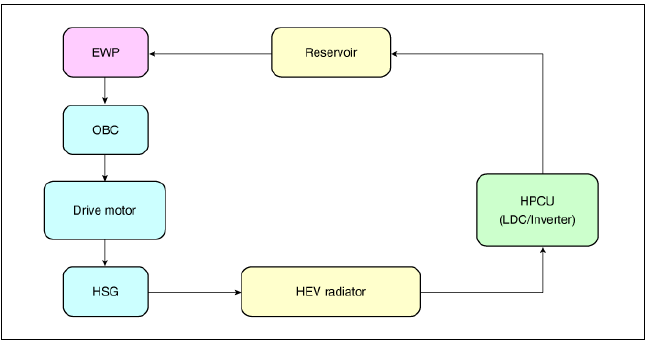 Specification

Electric Water Pump (EWP) Repair procedures
Removal
Disconnect the negative (-) cable of the 12V battery.
Remove the under cover.

(Refer to Engine Mechanical System - "Engine Room Under Cover")

Drain the coolant of hybrid motor cooling system.

(Refer to Hybrid Motor Cooling System - "Coolant")

Separate the hose (A) from the reservoir.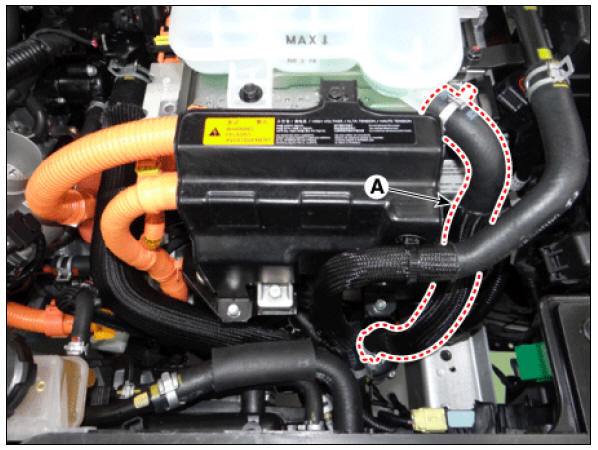 Separate the hose (A).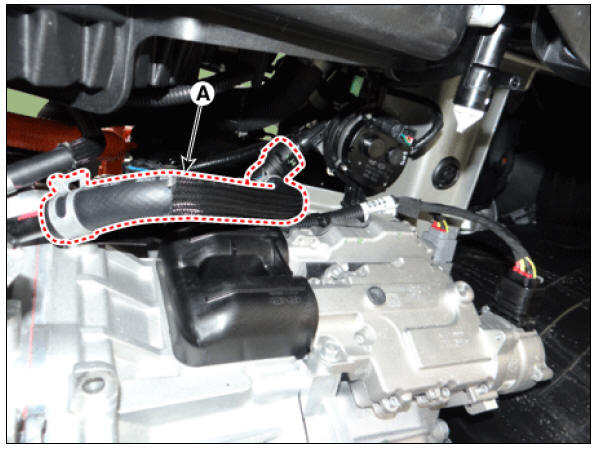 Disconnect the EWP connector (A) and then remove the EWP after removing the bracket (B).
Tightening torque : 9.8 - 11.8 N*m (1.0 - 1.2 kgf*m, 7.2 - 8.7 lb*ft)
Separate the hoses (A, B) from the EWP.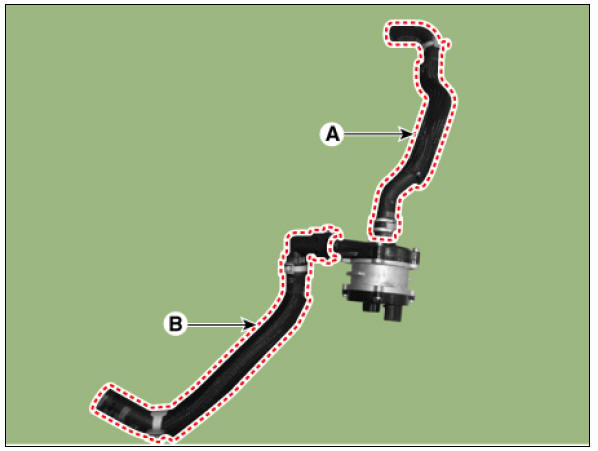 Installation
Install in the reverse order of removal.
Warning
Be careful not to damage other hoses nearby when tightening the clamp.
Install the clamp in the specified direction to prevent interference with surrounding components.
Refill the hybrid motor cooling system with coolant and then perform the air bleeding using the KDS.

(Refer to Hybrid Motor Cooling System - "Coolant")

After installing, check for leakage of coolant or fluid from hose connection during engine start.
READ NEXT:
Warning Never remove the cap when the engine is hot. Serious scalding could be caused by hot fluid under high pressure escaping from the reservoir. Warning When pouring inverter coolant, be sure to shut the relay box lid to prevent spilling c
Description Regeneration Brake System During deceleration or braking of an electric vehicle or HEV, the drive motor acts as an alternator and charges the battery by converting the vehicle's kinetic energy generated during braking into electrical
SEE MORE:
Removal Remove the fuel pump. (Refer to Fuel Delivery System - "Fuel Pump") Disconnect the fuel pump motor connector (A) and fuel sender connector (B). Lift the fixing hook (A) by using a comm
A: Drive carefully When the vehicle is stopped due to emergency braking, the warning message will appear on the cluster. Brake control will end after the vehicle is stopped by emergency braking for approximately 2 seconds. During