KIA Niro: Power outlet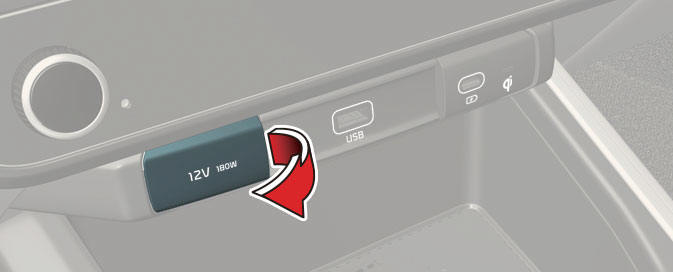 The power outlet allows drivers and passengers to charge their digital devices such as smart phones and tablets.
Operating condition(s)
The devices should draw less than 15 A when The vehicle is in the ON position.
WARNING
Use the power outlet only when the vehicle is on and remove the accessory plug after use. Using the accessory plug for prolonged periods of time with the vehicle off could cause the battery to discharge.
Only use 12 V electric accessories which are less than 15 A in electric capacity.
Adjust the air-conditioner or heater to the lowest operating level when using the power outlet.
Close the cover when not in use.
Some electronic devices can cause electronic interference when plugged into a vehicle's power outlet. These devices may cause excessive audio static and malfunctions in other electronic systems or devices used in your vehicle.
Push the plug in as far as it will go. If good contact is not made, the plug may overheat and the fuse may open.
Plug in battery equipped electronic devices with reverse current protection.

The current from the battery may flow into the vehicle's electrical/electronic system and cause system malfunction.

Do not put a finger or a foreign object (pen, etc.) into a power outlet and do not touch with a wet hand. You may get an electric shock.
READ NEXT:
Indicator Charging pad Operation Place the smartphone at the center of the wireless charging pad. The indicator light will change to orange once the wireless charging begins. The light will change to green when charging is c
A coat hook is next to the left rear grab handle. WARNING Do not hang other objects such as hangers or hard objects except clothes. Also, do not put heavy, sharp or breakable objects in the clothing's pockets. In an accident or when the cu
Roof rack You can load cargo on top of your vehicle. WARNING The following specification is the maximum weight that can be loaded onto the roof rack. Distribute the load as evenly as possible across the crossbars (if equipped) and roof rack
SEE MORE:
Removal Warning Be sure to read and follow the "General Safety Information and Caution" before doing any work related with the high voltage system. Failure to follow the safety instructions may result in serious electrical inj
Ready indicator READY This indicator appears: When the vehicle is ready to be driven. ON: Normal driving is possible. OFF: Normal driving is not possible, or a problem has occurred. Blinking: Emergency driving. When the ready indicator