KIA Niro: Road warning
When in an emergency situation occurs while driving or when you park by the edge of the roadway, you must alert approaching or passing vehicles to be careful as they pass. For this, you should use the hazard warning flasher.
Hazard warning flasher
The hazard warning flasher serves as a warning to other drivers to exercise extreme caution when approaching, overtaking, or passing your vehicle.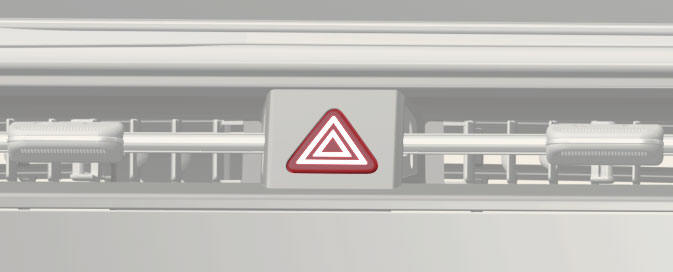 Condition(s)
When in an emergency situation occurs while driving
Parking by the edge of the roadway
Operation
Push the hazard warning flasher switch.
INFORMATION
The hazard warning flasher operates whether your vehicle is running or not.
The turn signals do not work when the hazard flasher is on.
Care must be taken when using the hazard warning flasher while the vehicle is being towed.
READ NEXT:
If the vehicle stalls while driving Operation Reduce the speed and keep a straight line. Stop the vehicle to a safe place. Turn the hazard warning flasher on. Start the vehicle again. If the engine still does not start, contact a pro
This vehicle does not have a regular 12V battery that needs periodic replacement. It is lithium ion polymer type integrated into the HEV high voltage battery. The vehicle has a 12V battery protection system that cuts 12V battery from vehicle
SEE MORE:
Basic Troubleshooting Guide Customer Problem Analysis Sheet Basic Inspection Procedure Measuring Condition of Electronic Parts' Resistance The measured resistance at high temperature after vehicle running may be high or low. So all
Trickle charger can be used if AC Charger is unavailable. Plug and cable Control box (ICCB) Charging connector/cable How to connect portable charger (ICCB: In-Cable Control Box) Connect the plug to a household electric outlet.