KIA Niro: Before jump starting (for hybrid vehicle) (Kia NIRO Hybrid)
This vehicle does not have a regular 12V battery that needs periodic replacement.
It is lithium ion polymer type integrated into the HEV high voltage battery. The vehicle has a 12V battery protection system that cuts 12V battery from vehicle draw to prevent full discharge.
Using the 12V battery reset switch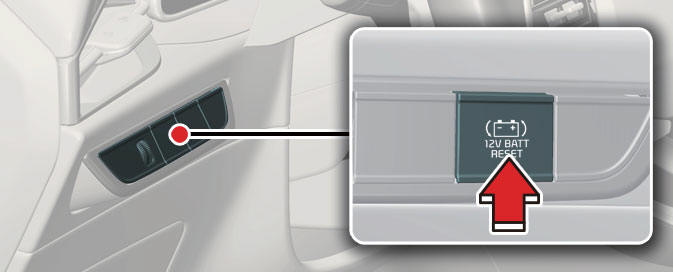 Press the 12V Battery Reset switch to reconnect the 12V battery.
Start the vehicle within 15 seconds of pressing the 12V Battery Reset switch.
After starting the vehicle (READY indicator on), operate the vehicle safely outdoors in ready mode stopped and/ or drive it for 30 minutes total to charge the 12V battery fully.
If you do not start the vehicle immediately after pressing the 12V Battery Reset switch, the power of 12V battery is automatically disconnected after few seconds to save the 12V battery from additional discharge. If the 12V battery is disconnected prior to starting the vehicle, press the 12V Battery Reset switch again and then immediately start the vehicle as explained.
Repeated use of the 12V Battery Reset switch without a sufficient vehicle ON cycle (30 Min+) may cause over discharge of the 12V battery, which will prevent the vehicle from starting. If the 12V battery is over discharged to a point that the reset does not work, try to jumpstart the vehicle.
NOTICE
After starting the vehicle (READY indicator on), the 12V battery is being charged whether the engine is running or not.
Although there is no engine sound, it is unnecessary to depress the accelerator pedal.
The following items may need to be reset after the battery has been discharged or the battery has been disconnected.
See chapter 4 and 5 for:
Power Windows
Trip Computer
Climate Control System
Audio System
NOTICE
External power source using 12V battery
The use of external power accessories may reduce performance and function of the vehicle. Especially, the use of dash cameras may shut off the power of the vehicle prior to the dash camera's automatic shut-down.
If the power of the vehicle is shut off, start the vehicle as explained. (refer to "Using the 12V battery reset switch")
READ NEXT:
Condition(s) When the vehicle will not start due to low battery power, you may need to jump start the vehicle. Operation Turn off all unnecessary electrical loads. Make sure the booster battery is 12- volt and that its negati
Jump-starting (12V battery) Condition(s) When the vehicle will not start due to low battery power Operation Connect the jumper cables as shown. Positive (+) terminal of the flat battery (1) and the booster battery (2). Neg
INFORMATION When the temperature gauge indicates overheating, loss of power or a loud pinging, knocking noise will occur, being the engine too hot. Cooling down the vehicle Operation Stop the vehicle to a safe place. Turn the hazard warni
SEE MORE:
A: Shifting conditions not met. Reduce speed, then shift When driving speed is too fast to shift the gear. When the gear is shifted while the vehicle is in Utility mode. A: Press brake pedal to change gear When the brake pedal is
Connect the plug to a household electric outlet. A: Plug B: Electric Outlet Check if the power lamp (green) appears on the control box. Depress the brake pedal and apply the parking brake. Turn OFF all switches,