KIA Niro: Securing a Child Restraint System with the "ISOFIX Anchorage" system
ISOFIX anchorages are metal bars built into the vehicle. There are two lower anchors for each ISOFIX seating position that will accommodate a Child Restraint System with lower attachments.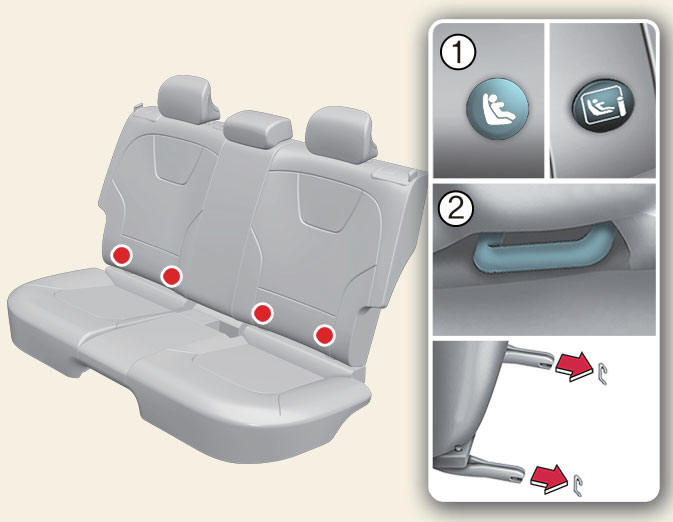 ISOFIX anchor position indicator
ISOFIX anchor
ISOFIX anchorages have been provided in the left and right outboard rear seating positions.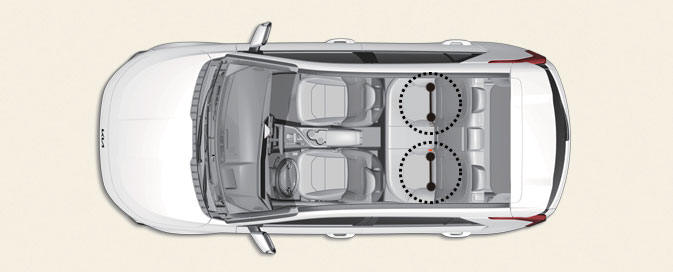 WARNING
Do not attempt to install a Child Restraint System using ISOFIX anchorages in the rear center seating position.
There are no ISOFIX anchorages provided for this seat. Using the outboard seat anchorages, for the CRS installation on the rear center seating position, can damage the anchorages.
When not using the ISOFIX system, all Child Restraint Systems must be secured to a rear seat with the lap part of a lap/shoulder belt
Operation
Move the seat belt buckle away from the ISOFIX anchorages.
Move any other objects away from the anchorages.
Place the Child Restraint System on the vehicle seat, then attach the seat to the ISOFIX anchorages according to the instructions provided by the Child Restraint System manufacturer.
Follow the instructions of the Child Restraint System's manufacturer for proper installation and connection of the ISOFIX attachments on the Child Restraint System to the ISOFIX anchorages.
WARNING
Take the following precautions when using the ISOFIX system:
Read and follow all installation instructions provided with your Child Restraint System.
To prevent the child from reaching and taking hold of unretracted seat belts, buckle all unused rear seat belts and retract the seat belt webbing behind the child. Children can be strangled if a shoulder belt becomes wrapped around their neck and the seat belt tightens.
NEVER attach more than one Child Restraint System to a single anchorage.

This could cause the anchor or attachment to come loose or break.

Always have the ISOFIX (i- Size) system inspected by your dealer after an accident. An accident can damage the ISOFIX system and may not properly secure the Child Restraint System.
READ NEXT:
Type A Type B Operation Route the Child Restraint System seat strap over the seatback. Connect the top-tether to the toptether anchorage. Tighten the top-tether according to the instructions of your Child Restraint System&
Yes : Suitable for fitment of the designated category of CRS No : Not suitable for fitment of the designated category of CRS "-": Not applicable The table is based on LHD vehicle. Except for the front passenger seat, the table i
Yes: Suitable for fitment of the designated category of CRS No: Not suitable for fitment of the designated category of CRS "-": Not applicable The table is based on LHD vehicle. Except for the front passenger seat, the table is
SEE MORE:
Smart regeneration system The Smart Regeneration System controls the regenerative braking automatically according to the road gradient and driving condition of the vehicle in front. The system minimizes the unnecessary operation of the brake
Front view * The actual features in your vehicle may not necessarily be available due to the selected options or regions. Hood Head lamp Wheel and tire Outside rear view mirror Sunroof Front windshield wiper blades Windows F