KIA Niro: Sun visor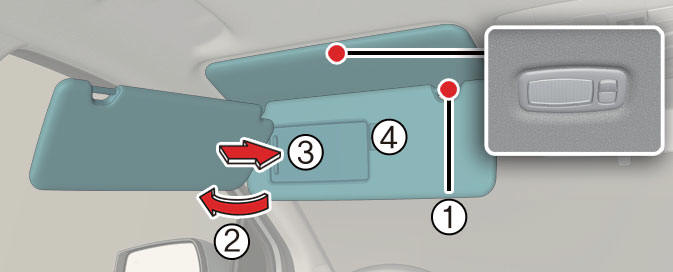 Operation
Pull down and unsnap it from the bracket (1).
Swing it to the side (2).
Pull down and slide the mirror cover (3) to use the vanity mirror.
The ticket holder (4) is provided for the purpose of holding a tollgate ticket.
WARNING
For your safety, do not block your view when using the sun visor.
NOTICE
Do not put several tickets in the ticket holder at one time. This could cause damage to the ticket holder.
Always have the switch in the off position when the vanity mirror lamp is not in use. If the sun visor is closed without the lamp off, it may discharge the battery or damage the sun visor.
USB charger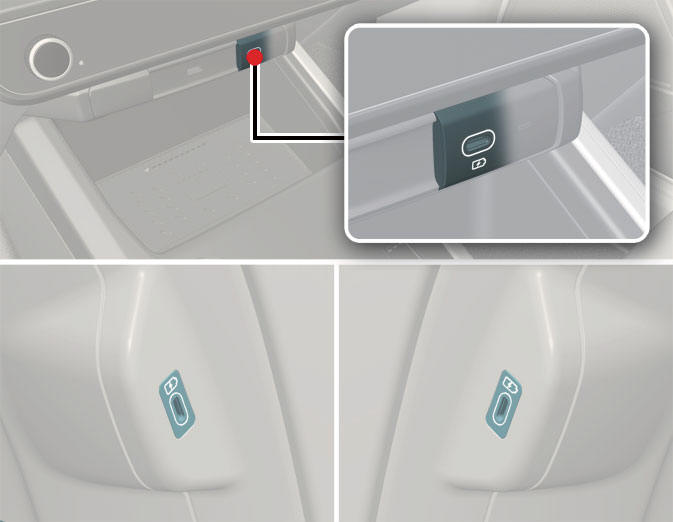 The USB charger allows drivers and passengers to charge their digital devices such as smart phones and tablets.
INFORMATION
Quick Charge 2.0 is available on the smart phone or the table PC equipped with fast charging capabilities. The applicable is as follows. The smart phone or PC tablet without fast charging is charged at a regular speed.
Rated output
Digital devices with fast charging: 9.0 V, 1.67 A
Digital devices with normal charging: 5.0 V, 2.1 A
CAUTION
Use the USB car charger with the ignition on. Otherwise, Vehicle battery can be discharged.
Use the official USB cable of the manufacturer of the digital device to be charged.
Make sure that any foreign object, drinks, and water do not come into contact with the USB car charger.

Water or foreign object can damage the USB charger.

Do not use the device those current consumption exceeds 2.1 A.
Do not connect an electrical device that generates excessive electromagnetic noise to the USB car port. If you do so, noise can be caused or vehicle electronic devices can be interrupted while audio or AV is on.
If the charger is connected incorrectly, it can cause serious damage on the devices. Please note that damages due to incorrect usage are not covered by warranty service.
READ NEXT:
Type A Type B The AC inverter supplies 220V/200W or 115V/150W electric power to operate electric accessories or equipment. If you wish to use the AC inverter, open up the AC inverter cover and connect a plug to it. The AC inverter supplies
The power outlet allows drivers and passengers to charge their digital devices such as smart phones and tablets. Operating condition(s) The devices should draw less than 15 A when The vehicle is in the ON position. WARNING Use the
Indicator Charging pad Operation Place the smartphone at the center of the wireless charging pad. The indicator light will change to orange once the wireless charging begins. The light will change to green when charging is c
SEE MORE:
Warning Be sure to read and follow the "General Safety Information and Caution" before doing any work related with the high voltage system. Failure to follow the safety instructions may result in serious electrical injuries. B
The AUTO HOLD maintains the vehicle in a stopped position without depressing the brake pedal. Applying AUTO HOLD Operation Press the AUTO HOLD button. The AUTO HOLD indicator will light up in white. The AUTO HOLD indicator changes