KIA Niro: Portable charge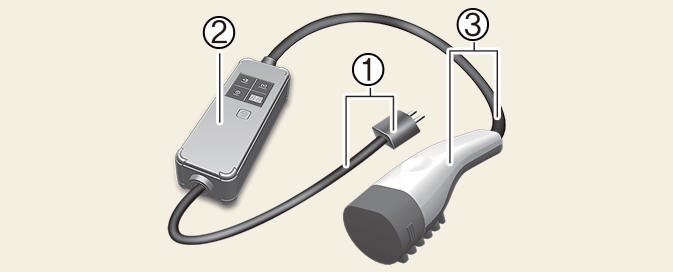 Code and Plug (Code set)
Control Box
Charging Cable and Charging Connector
Portable Charge can be used when AC Charge or DC Charge is not available by using household electricity.
Setting the charge level of the portable charger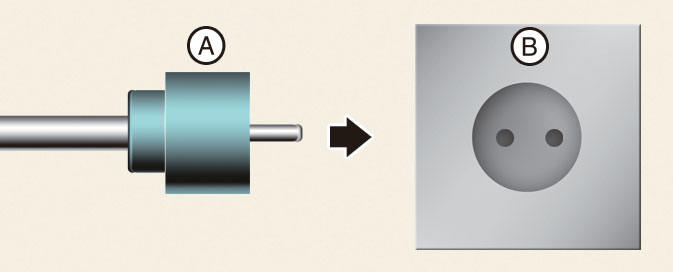 A: Plug
B: Electric Outlet
Check the rated current of the electric outlet prior to connecting the plug to the outlet.
Connect the plug to a household electric outlet.
Check the display window on the control box.
Press the button (1) on the back of the control box for 2 to 8 seconds to adjust the charge level. (Refer to charging cable type and example for setting the charge level.)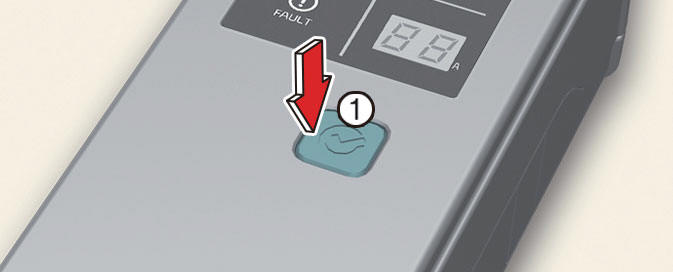 The charge level on the display window of the control box changes every time you press the button (1).
When setting the charge level is complete, start charging according to the portable charge procedure.
* Example for setting the ICCB charge level
* The example is only for reference and may vary according to the surrounding environment.

CAUTION
Please make sure that charge level selection matches the capacity of your circuit breaker to avoid blown fuse.
READ NEXT:
Connect the plug to a household electric outlet. A: Plug B: Electric Outlet Check if the power lamp (green) appears on the control box. Depress the brake pedal and apply the parking brake. Turn OFF all switches,
Status/Diagnosis/Countermeasure Charging connector plugged into vehicle (POWER Green ON) Plug connected to an electric outlet (POWER Green ON) While charging Charge indicator (POWER Green ON/ CHARGE Blue ON) Charg
Action to be taken when charging stops abruptly When the high voltage battery does not charge, check the followings: Check the charging setting for the vehicle. Refer to "EV settings" (e.g. When scheduled charging is set, c
SEE MORE:
Jack and tools Jack handle Jack Wheel lug nut wrench Removing and storing the spare tire Operation Remove the luggage board cover (1). Turn the tire hold-down wing bolt counterclockwise. Store the tire in the
Specification Description Pre-Charge Resistor is integrated into the Power Relay Assembly (PRA). It protects the high voltage circuit by limiting the current while the inverter capacitor is being charged. PRA Operation Sequence Cir