KIA Niro: Towing
If the vehicle needs to be towed, call a professional towing service. Never tow vehicle with just a rope or chain. It is very dangerous.
Front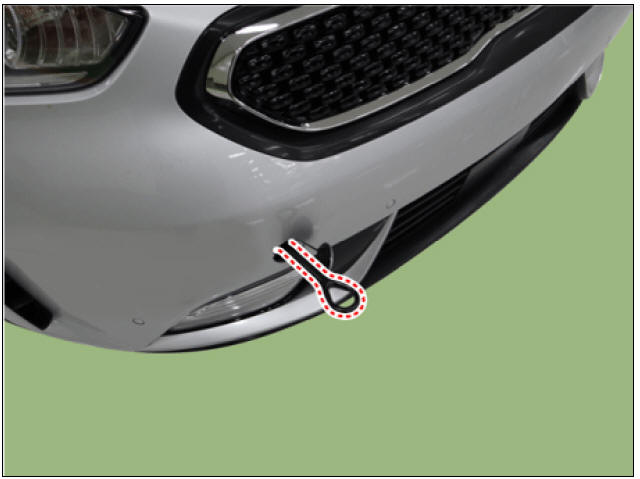 Rear
Emergency Towing
There are three popular methods of towing a vehicle :
The operator loads the vehicle on the back of truck. This is best way of transporting the vehicle.
The tow truck uses two pivoting arms that go under the tires of the driving axle and lift them off the ground. The other two wheels remain on the ground.
The tow truck uses metal cables with hooks on the ends. These hooks go around parts of the frame or suspension, and the cables lift that end of the vehicle off the ground. The vehicle's suspension and body can be seriously damaged if this method of towing is attempted.
If the vehicle cannot be transported by flat-bed, should be towed with the wheels of the driving axle off the ground and do the following :
Manual Transaxle
Release the parking brake.
Shift the Transaxle to neutral
Automatic Transaxle
Release the parking brake.
Start the engine.
Shift to (D) position, then (N) position.
Turn off the engine.
Warning
The vehicle equipped with full-time 4WD should be only transported on a flat-bed.
Improper towing preparation will damage the transaxle. follow the above procedure exactly. If you cannot shift the transaxle or start the engine(automatic transaxle), your vehicle must be
transported on a flatbed.
It is the best to tow vehicle no farther than 30km (19miles), and keep the speed below 50km/h (30mph). (For the full-time 4WD vehicle, limit the towing to 1.5km (1mile) and 15km/h
(10mph)
Trying to lift or tow your vehicle by the bumpers will cause serious damage. The bumpers are not designed to support the vehicle's weight
READ NEXT:
Engine pressure cap caution Cooling fan caution High voltage caution Inverter reservoir tank cap caution Battery Caution Label Warning / Caution Label (Cont'd) Keep lighted cigarettes and all other flames or sparks away f
Warning Be sure to read and follow the "General Safety Information and Caution" before doing any work related with the high voltage system. Failure to follow the safety instructions may result in serious electrical injuries. B
SEE MORE:
Removal Turn ignition switch OFF and disconnect the battery negative (-) terminal. Remove the engine cover. Disconnect the ignition coil connector (A). Remove the ignition coil (A) after loosening the mounting bolt. I
Using fuels such as Silicone (Si) contained fuel, MMT (Methylcyclopentadienyl Manganese Tricarbonyl), Manganese (Mn) contained fuel, Ferrocene (Fe) contained fuel, and Other metallic additives contained fuels, may cause vehicle and en