KIA Niro: Vehicle to load (V2L)
V2L is the system that provides AC power using the high voltage battery for driving to operate several electronical products.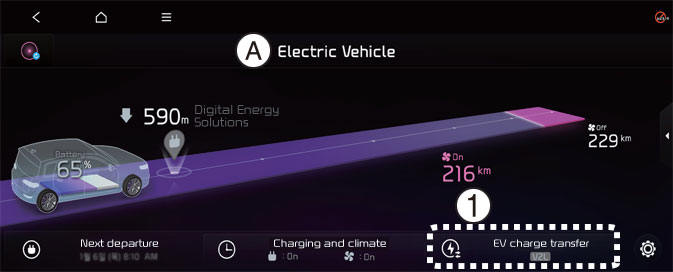 A: Electric Vehicle
EV Charge Transfer
Select EV ? EV Charge Transfer on the screen.
You can set the battery discharging limit for high voltage battery for driving.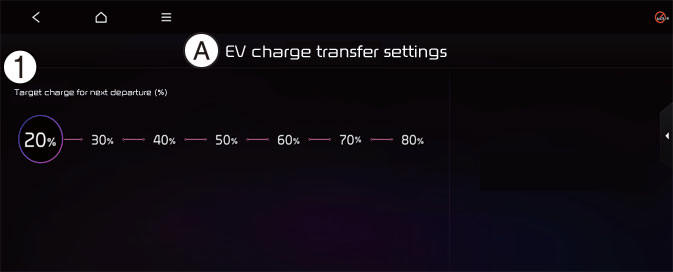 A: EV charge transfer settings
Target charge for next departure (%)
If the vehicle reaches to the limit, it automatically cut supply of electricity.
NOTICE
The infotainment system may change after software updates. For more information, refer to the manual provided in the infotainment system and the quick reference guide.
Energy information
Select EV and see the vehicle image from the infotainment system screen.
You can check battery discharging level.
READ NEXT:
Outdoor (if equipped) Open the cover of the V2L connector. Close the cover after connecting home appliances and electronic products to the power outlet. Connect the V2L connector to the charging hole on the vehicle. Pr
V2L finished. Defined charge level reached A: V2L finished. Defined charge level reached When the high voltage battery level reaches the discharging limit set level, the V2L will stop and the warning will be displayed. If you want to use th
A: Electric Vehicle Select EV and see the map from the infotainment system screen. Stations around the current location are searched. A: Electric Vehicle Select the icon on the screen. Around the course, around the current site, aro
SEE MORE:
Identification Numbers Identification Number Description Vehicle Identification Number World Manufacturer Identifier (WMI) KNA : Passenger vehicle, MPV(Multipurpose Passenger Vehicle)/SUV(Sports Utility Vehicle)/RV(Recreational
Specification Accelerator Position Sensor (APS) Description and operation Description Installed on the accelerator pedal module, the Accelerator Position Sensor (APS) detects the rotation angle of the accelerator pedal. The APS is one o