KIA Niro: Feature of seat leather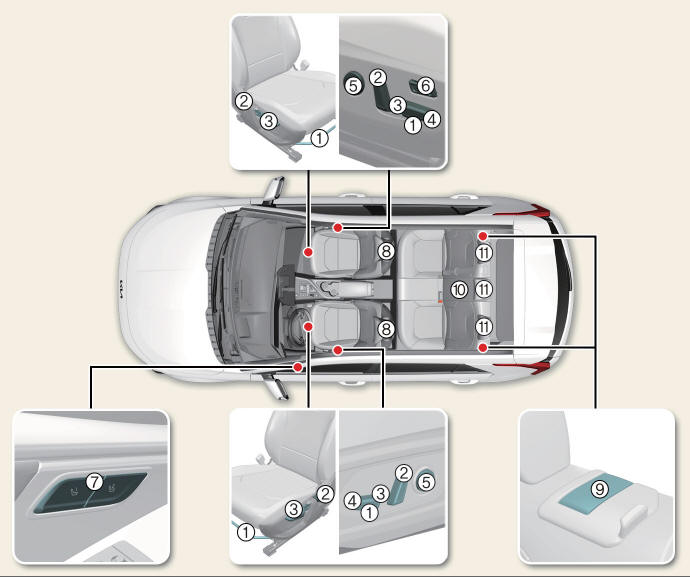 * The actual features in your vehicle may not necessarily be available due to the selected options or regions.
* The picture above is based on LHD vehicle. For RHD vehicle, the operation of front seat are located on the opposite side.
Front seat
Forward and backward
Seatback angle
Seat height
Cushion tilt
Lumbar support
Relaxion comfort seat
Driver position memory system
Headrest
2nd-row seat
Seatback angle/folding
Armrest
Headrest
Feature of seat leather
Our car seats are upholstered with a combination of artificial and genuine leather. The genuine leather is made from the outer skin of an animal, which goes through a special process to be available for use. Since it is a natural substance, each part differs in thickness or density. Also, wrinkles could appear depending on the temperature and humidity.
The seat cover is made of stretchable material to improve comfort of passengers.
The parts contacting the body are curved and the side supporting area is high which provides driving comfort and stability.
Wrinkles may appear naturally from usage. It is not a fault of the product.
CAUTION
Wrinkles or abrasions which appear naturally from usage are not covered by warranty.
Belts with metallic accessories, zippers or keys inside the back pocket may damage the seat fabric.
Make sure not to wet the seat. It may change the nature of leather.
Jeans or clothes which could bleach may contaminate the surface of the seat covering fabric.
READ NEXT:
Infotainment system (Kia Niro Hybrid only) A: Vehicle settings Seat Seat Position Change Alert Seating Easy Access Rear Seat Heating/Ventilation Control Select Settings ? Vehicle ? Seat from the Settings menu in the infotainment s
Operation The seat can be adjusted by using the control levers located on the outside of the seat cushion. INFORMATION Adjust the seat before driving, and make sure the seat is locked securely by trying to move without using the lever. If the
Relaxion comfort seats distribute body pressure and concentrated weight on specific body parts that occur while sitting in the same position for a long period of time. The seat relieves fatigue and discomfort by providing the optimal sit po
SEE MORE:
LOCK ACC ON START Operation LOCK The ignition key can be removed. ACC (Accessory) The electrical accessories can be operated. ON The warning lights can be checked. START Turn the ignitio
Schematic Diagram Repair procedures Inspection After disconnecting the vapor hose from the PCV valve, remove the PCV valve. Reconnect the PCV valve to the vapor hose. Run the engine at idle, then put a finger over the open end of the