KIA Niro: How to disconnect charging connector in emergency
Before disconnecting the charging connector, make sure the doors are unlocked. When the door is locked, the charging connector lock system will not allow disconnection. To prevent charging cable theft, the charging connector cannot be disconnected from the inlet when the doors are locked. However, if the vehicle is in the charging connector AUTO mode, the charging connector automatically unlocks from the inlet when charging is completed.
NOTICE
In order to disconnect the charging connector, unlock the doors to unlatch the charging connector lock system. If not, the charging connector and the vehicle's charging inlet may be damaged.
Hold the charging connector handle and pull it out.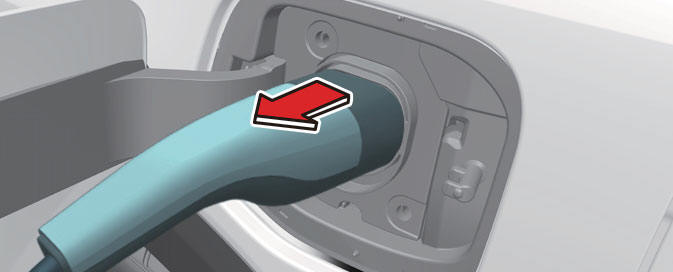 Make sure to securely close the charging door.
Disconnect the plug from the household electric outlet. Do not pull the cable when disconnecting the plug.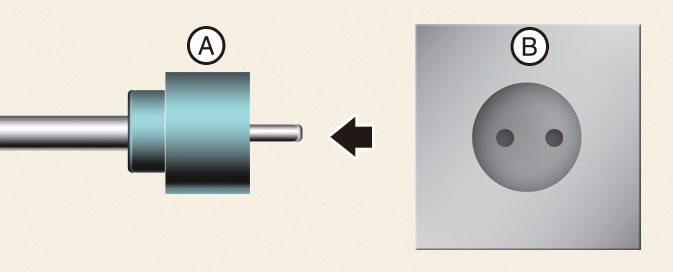 Plug
Electric Outlet
Close the protective cover for the charging connector so that foreign material cannot get into the terminal.
Put the charging cable inside the cable compartment to protect it.
Precautions for portable charging cable (ICCB: In-Cable Control Box)
Use the portable charging cable that is certified by Kia.
Do not try to repair, disassemble, or adjust the portable charging cable.
Do not use an extension cord or adapter.
Stop using immediately if failure warning light occurs.
Do not touch the plug and charging connector with wet hands.
Do not touch the terminal part of the AC charging connector and the AC charging inlet on the vehicle.
Do not connect the charging connector to voltage that does not comply with regulations.
Do not use the portable charging cable if it is worn out, exposed, or there exists any type of damage on the portable charging cable.
If the ICCB case and AC charging connector is damaged, cracked, or the wires are exposed in any way, do not use the portable charging cable
Do not let children operate or touch the portable charging cable.
Keep the control box free of water.
Keep the AC charging connector or plug terminal free of foreign substances.
Do not step on the cable or cord. Do not pull the cable or cord and do not twist or bend it.
Do not charge when there is lightning.
Do not drop the control box or place a heavy object on the control box.
Do not place an object that can generate high temperatures near the charger when charging.
Charging with the worn out or damaged household electric outlet can result in a risk of electric shock. If you are in doubt to the household electric outlet condition, have it checked by a licensed electrician.
Stop using the portable charging cable immediately if the household electric outlet or any components is overheated or you notice burnt odors.
READ NEXT:
When you cannot charge the high voltage battery after connecting the charger, check the following: Check the charging settings for the vehicle.(e.g. when scheduled charging is set, charging is not initiated immediately when the AC charger
Vehicles with smart key system Carry the smart key or leave it inside the vehicle. Make sure the parking brake is firmly applied. Place the shift dial in P (Park). With the shift dial in N (Neutral), you cannot start the vehicle. De
SEE MORE:
Lane-change oncoming function (if equipped) Warning and control The Lane-change oncoming function is warned and controlled by the following level. Collision warning Emergency steering Collision warning A: Collision Warning! Collis
Normal type Fabric type Because the sidewalls of radial tires are thinner, they can be damaged by mounting some types of snow chains on them. Therefore, the use of snow tires is recommended instead of snow chains. Do not mount tire c