KIA Niro: Locking/unlocking/remote starting/remote parking with the smart key (Kia Niro EV)
Smart key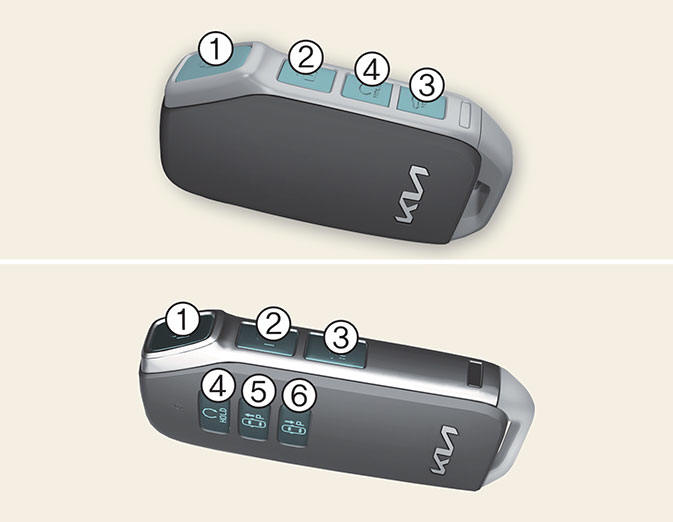 Lock
Unlock
Tailgate unlock/open
Remote start
Remote Start Parking Assist (Forward)
Remote Start Parking Assist (Backward)
Operation
Press the corresponding button.
Press the door lock button (1) and hold the remote start button (4) for 2 seconds to start the vehicle remotely.
Press the forward/backward buttons (5, 6) to move the vehicle forward/ backward.
Non-operating condition(s)
Being close to a radio transmitter such as a radio station or an airport which can interfere with normal operation of the smart key.
Being near a mobile two-way radio system or a cellular phone.
Another vehicle's smart key is being operated close to your vehicle.
INFORMATION
If you press the tailgate unlock/open button for longer than a second, the lock will be released or the tailgate will be opened according to the options of the vehicle.
If any door, hood or tailgate remains open, the hazard warning lights will not operate.
After pressing unlock button, the doors will lock automatically unless you open any door within 30 seconds.
After pressing the Lock/Unlock button, The hazard warning lights will flash.
To start the vehicle remotely, the smart key should be detected within 10 m (32 ft) distance from the vehicle, and the remote start button should be pressed within 4 seconds after the doors are locked.
If no further action for operating/driving the vehicle is taken, the vehicle will be turned off 10 minutes after starting the vehicle remotely.
The driver can move the vehicle forward or backward using the forward/ backward buttons (5, 6) on the smart key. For more details of Remote Smart Parking Assist (RSPA), refer to "Remote Smart Parking Assist (RSPA) (if equipped)"
READ NEXT:
Operation Pry open the key cover gently. Replace the old battery with a new battery. WARNING THIS PRODUCT CONTAINS A BUTTON BATTERY If swallowed, a lithium button battery can cause severe or fatal injuries within 2 hours. Keep
The system provides an audible alarm and the hazard warning lights blink if triggered. The system is operated in 3 stages. Armed stage Operation Lock the doors by pressing the lock button on the key or door handle. The hazard warning li
SEE MORE:
(Kia NIRO Hybrid) Smartstream G1.6 GDi HEV Smartstream G1.6 GDi PHEV Engine coolant reservoir Brake fluid reservoir Air cleaner Engine oil filler cap Engine oil dipstick Windshield washer fluid reservoir Fuse box I
A: EV Settings Battery conditioning mode Battery conditioning mode The Battery conditioning mode is efficient during the winter time when the high voltage battery temperature is low. This mode is recommended to improve driving