KIA Niro: Plug-in hybrid vehicle components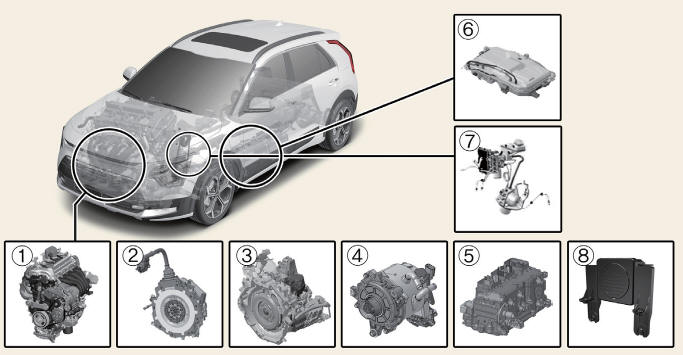 * The actual shape may differ from the illustration.
Engine: 1.6L
Motor: 32 kW (HEV) / 62 kW (PHEV)
Transmission: 6DCT
Hybrid starter generator (HSG)
HPCU (Hybrid Power Control Unit)
High voltage battery system
Regenerative brake system
Virtual Engine Sound System (VESS)
The Hybrid battery uses high voltage to operate the electric motor and other components. High voltage is dangerous if touched.
Your vehicle is equipped with orange colored insulation and covers over the high voltage components to protect people from electric shock. High voltage warning labels are attached to some system components as additional warnings.
Have your vehicle serviced by a professional workshop. Kia recommends to visit an authorized Kia dealer/service partner.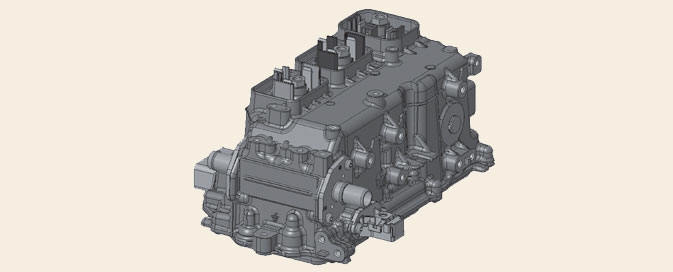 HPCU (Hybrid Power Control Unit) *1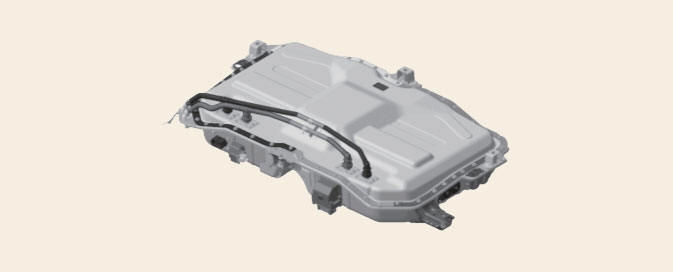 High voltage battery system *2
* 1: Located in the engine compartment
* 2:Located underfloor
WARNING
Never touch orange colored or high voltage labeled components, including wires, cables, and connections. When the insulators or covers are damaged or removed, severe injury or death from electrocution may occur.
WARNING
While replacing the fuses in the engine compartment, never touch the HPCU.
The HPCU carries high voltage. Touching the HPCU may result in electrocution, serious injury, or death.
WARNING
In the hybrid system, the hybrid battery uses high voltage to operate the motor and other components. This high voltage hybrid battery system can be very dangerous.
Never touch the hybrid system. When you touch the hybrid battery system, serious injury or death may occur.
CAUTION
Do not pile up any items in an area behind the high voltage battery. In a crash, the battery may become unstable, or its performance may degrade.
Do not apply strong force or pile up any items above the luggage compartment.

Such an attempt may distort the high voltage battery case, causing a safety problem or degrading the performance.

Be careful when loading flammable liquid in the passenger compartment.

It could cause operational and safety degradation if the liquid leaks and flows in the high voltage battery.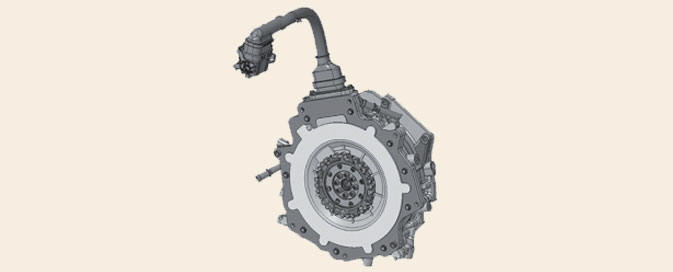 Drive motor *3
* 3: Located in the engine compartment
WARNING
As with all batteries, avoid fluid contact with the hybrid battery. If the battery is damaged and if electrolyte comes in contact with your body, clothes or eyes, immediately flush with a large quantity of fresh water.
WARNING
Do not use an after-market battery charger to charge the hybrid battery. Doing so may result in death or serious injury.
WARNING
High waters
Avoid high waters as this may result in your vehicle becoming saturated with water and could compromise the high voltage components.
Do not touch the any of the high voltage components within your vehicle if your vehicle has been submerged in water equal to half of the vehicle height. Touching high voltage components once submerged in water could result in severe burns or electric shock that could result in death or serious injury.
WARNING
Carrying liquids in tailgate
Do not load large amounts of water in open containers into the vehicle. If the water spills onto the HEV battery, it may cause a short and damage the battery.
CAUTION
Cleaning engine
When you clean the engine compartment, do not wash using water. Water may cause electric arcing to occur and damage electronic parts and components.
WARNING
Exposure to high voltage
High voltage in the hybrid battery system is very dangerous and can cause severe burns and electric shock. This may result in serious injury or death.
For your safety, never touch, replace, dismantle or remove any portion of the hybrid battery system including components, cables and connectors.
WARNING
Use of water or liquids
If water or liquids come into contact with the hybrid system components, and you are also in contact with the water, severe injury or death due to electrocution may occur.
WARNING
Hot components
When the hybrid battery system operates, the HEV battery system can be hot.
Heat burns may result from touching even insulated components of the HEV system.
CAUTION
Prolonged parking
Prolonged parking might cause battery discharge and operation failure due to natural discharge. Driving the vehicle approximately once every 2 months, more than 15 km (9 miles) is recommended.
The battery will be charged automatically when driving the vehicle.
READ NEXT:
High voltage battery system HPCU (Hybrid Power Control Unit) *1 High voltage battery system *2 * 1: Located in the engine compartment * 2: Located under the 2nd row seats WARNING Never touch orange colored or high voltage labeled compo
| Under the rear seats The hybrid battery cooling duct is located under the rear seats. The cooling duct cools down the hybrid battery. When the hybrid battery cooling duct is blocked, the hybrid battery may be overheated. Clean the cool
WARNING For your safety, do not touch the high voltage cables, connectors and package modules. High voltage components are orange in color. Exposed cables or wires may be visible inside or outside of the vehicle. Never touch the wires
SEE MORE:
Check the condition and connections of all the cooling system hoses and heater hoses. Replace any swollen or deteriorated hoses. The coolant level should be filled between the MAX or F and the MIN or L marks on the side of the coolant reser
You can charge at high speeds at public charging stations. Refer to the respective company's manual that is provided for each DC charger type. Battery performance and durability can deteriorate if the DC charger is used constantly. U