KIA Niro: Using the Tire Mobility Kit
Operation
Shake the sealant bottle.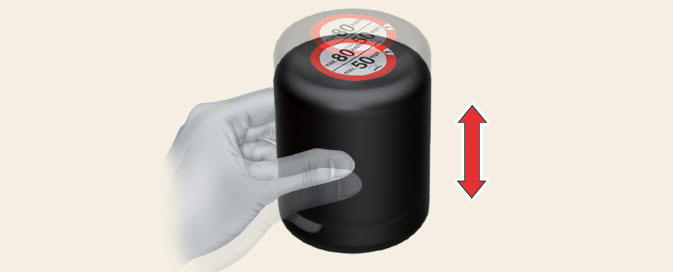 Connect the filling hose onto the connector of the sealant bottle. (A) Remove the sealant bottle cap and sealant bottle holder cap and connect the bottle onto the sealant bottle holder. (B)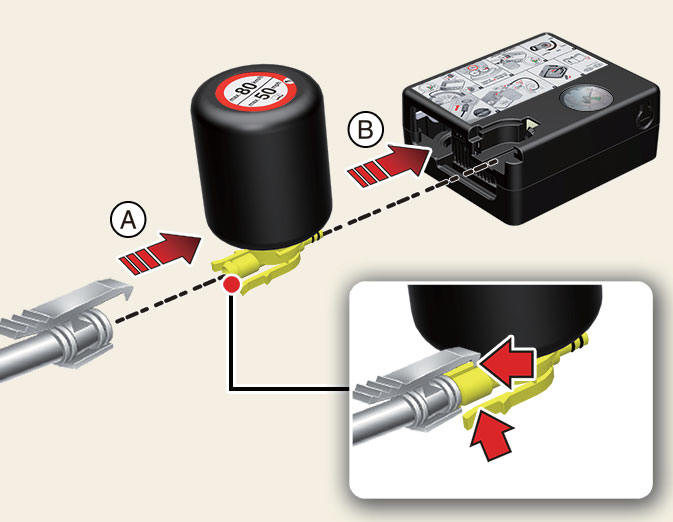 Make sure the compressor valve on the filling hose is locked.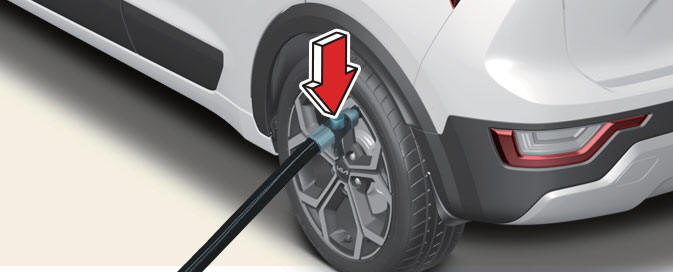 Unscrew the valve cap and screw the filling hose onto the tire valve.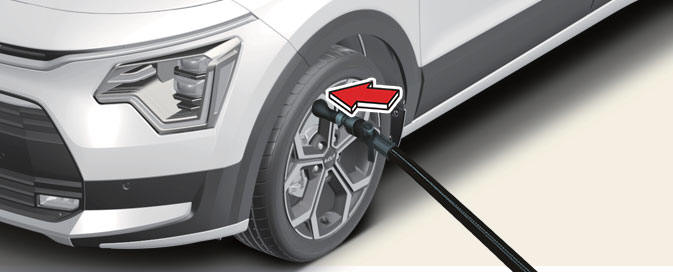 Make sure the compressor is turned off.
Connect the power outlet connector.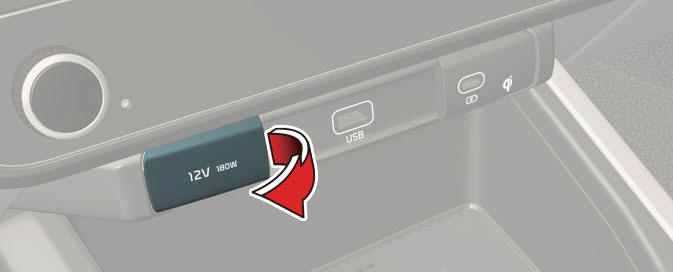 Start the vehicle.
Turn the compressor on and let it run for approximately 5~7 minutes to fill the sealant up to the proper pressure.
Turn the compressor off.
Detach the filling hose from the tire valve.
Distributing the sealant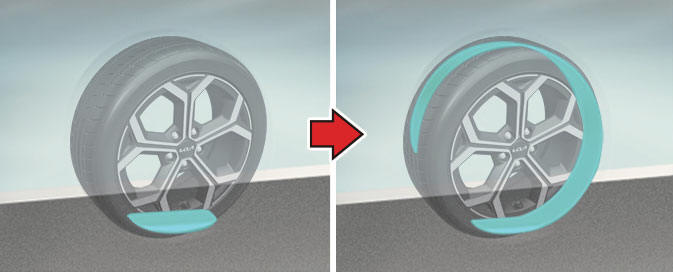 Operation
Immediately drive approximately 7~10 km (4~6 miles, or approximately 10 minutes) to distribute the tire sealant evenly.
WARNING
Do not leave your vehicle running in a poorly ventilated area for extended periods of time. Carbon monoxide poisoning and suffocation can occur.
If the tire pressure is below 26 psi(180 kPa), do not drive the vehicle. The tire may cause accident.
CAUTION
Securely install the sealant filling hose to the valve. If not, sealant may flow backward, possibly clogging the filling hose.
Do not exceed a speed of 80 km/h (50 mph). If possible, do not fall below a speed of 20 km/h (12 mph). While driving, if you experience any unusual vibration, ride disturbance or noise, reduce your speed and drive with caution until you can safely pull off of the side of the road. Call for road side service or towing. When you use the Tire Mobility Kit, the wheel may be stained by sealant. Therefore, remove the wheel stained by sealant and have the vehicle inspected at a professional workshop. Kia recommends visiting an authorized Kia dealer/service partner.
READ NEXT:
Operation After driving approximately 7~10 km (4~6 miles, or approximately 10 minutes), stop the vehicle in a safe, level place. Connect the filling hose directly to the tire valve. Connect the power outlet connector. Adjust
Stop the vehicle in a safe, level place away from traffic. Set the parking brake. Only use the Tire Mobility Kit for sealing/ inflating passenger vehicle tires. Do not remove any foreign objects from the tire. Read the precautionary
SEE MORE:
Opening the charging door Operation Press the right center edge of the charging door. The charging door is not open when the vehicle is locked. Closing the charging door Operation Close the charging door by pressing rear
Operation Pull the left side (-) of the paddle shifter to increase regenerative braking and deceleration. Pull and hold the left side (-) of the paddle shifter to reach MAX and stop the vehicle. Pull the right side (+) of the