KIA Niro: Checking tire inflation pressure
Operation
After driving approximately 7~10 km (4~6 miles, or approximately 10 minutes), stop the vehicle in a safe, level place.
Connect the filling hose directly to the tire valve.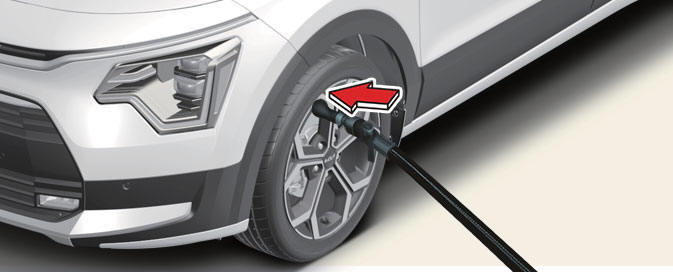 Connect the power outlet connector.
Adjust the tire inflation pressure to the specified value.
Turn the compressor on to increase the inflation pressure. Turn the compressor off briefly to check the current inflation pressure.
Turn the compressor valve to reduce the inflation pressure.
WARNING
Do not let the compressor run for more than 10 minutes, otherwise the device will overheat and may be damaged.
The tire inflation pressure must be inflated to the proper pressure (Refer to "Tires and wheels" on page 9-5). If it is not, do not continue driving. Call for road side service or towing.
CAUTION
If the inflation pressure is not maintained, drive the vehicle a second time, refer to "Distributing the sealant". Then repeat steps 1 to 4.
Use of the TMK may be ineffectual for tire damage larger than approximately 4 mm (0.16 inches).
We recommend that you contact a professional workshop if the tire cannot be made roadworthy with the Tire Mobility Kit.
NOTICE
When reinstalling the repaired or replaced tire and wheel on the vehicle, tighten the wheel lug nut to 11~13 kgf*m (79~94 lbf*ft).
READ NEXT:
Stop the vehicle in a safe, level place away from traffic. Set the parking brake. Only use the Tire Mobility Kit for sealing/ inflating passenger vehicle tires. Do not remove any foreign objects from the tire. Read the precautionary
Wheel dolly Proper lifting and towing procedures are necessary to prevent damage to the vehicle. The use of wheel dolly (1) or flatbed is recommended. On 2WD vehicles, it is acceptable to tow the vehicle with the rear wheels
SEE MORE:
(Kia Niro Hybrid only) A: Check forward safety systems When Forward Collision-Avoidance Assist is not working properly, the warning message will appear, and the ( ) and ( ) warning lights will appear on the cluster. Kia recommends visitin
Blind-Spot Collision-Avoidance Assist may not operate properly, or it may operate unexpectedly under the following circumstances: There is inclement weather, such as heavy snow, heavy rain, etc. The detecting sensor is covered with snow,