KIA Niro: Basic Inspection Procedure
Measuring Condition of Electronic Parts' Resistance
The measured resistance at high temperature after vehicle running may be high or low. So all resistance must be measured at ambient temperature (20ºC, 68ºF), unless stated otherwise.
Warning
The measured resistance in except for ambient temperature (20ºC, 68ºF) is reference value.
Intermittent Problem Inspection Procedure
Sometimes the most difficult case in Troubleshooting is when a problem symptom occurs but does not occur again during testing. An example would be if a problem appears only when the vehicle is cold but has not appeared when warm. In this case, the technician should thoroughly make out a "Customer Problem Analysis Sheet" and recreate (simulate) the environment and condition which occurred when the vehicle was having the issue.
Clear Diagnostic Trouble Code (DTC).
Inspect connector connection, and check terminal for poor connections, loose wires, bent, broken or corroded pins, and then verify that the connectors are always securely fastened.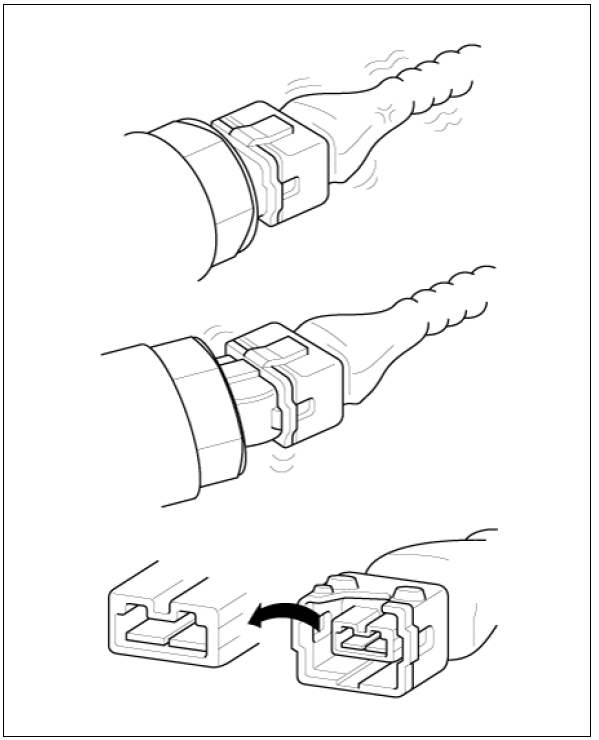 Slightly shake the connector and wiring harness vertically and horizontally.
Repair or replace the component that has a problem.
Verify that the problem has disappeared with the road test.
a. Sensors and Actuators
Slightly vibrate sensors, actuators or relays with finger.
Warning
Strong vibration may break sensors, actuators or relays
b. Connectors and Harness
Lightly shake the connector and wiring harness vertically and then horizontally.
a. Heat components suspected of causing the malfunction with a hair dryer or other heat source.
Warning
DO NOT heat components to the point where they may be damaged.
DO NOT heat the ECM directly.
Simulating Water Sprinkling
a. Sprinkle water onto vehicle to simulate a rainy day or a high humidity condition.
Warning
DO NOT sprinkle water directly into the engine compartment or electronic components.
Simulating Electrical Load
a. Turn on all electrical systems to simulate excessive electrical loads (Radios, fans, lights, rear window defogger, etc.).
READ NEXT:
Handling of Connector a. Never pull on the wiring harness when disconnecting connectors. b. When removing the connector with a lock, press or pull locking lever. c. Listen for a click when locking connectors. This sound indicates that
Check Open Circuit Procedures for Open Circuit Continuity Check Voltage Check If an open circuit occurs (as seen in (FIG. 1)), it can be found by performing Step 2 (Continuity Check Method) or Step 3 (Voltage Check Method) as s
Hybrid Power Control Unit (HPCU) Brake Switch Type : ON/OFF Switch DC Fuse High Voltage Battery System Battery Pack Assembly General Specification Warning Main high voltage battery pack assembly (180V) + Sub high voltag
SEE MORE:
Jump-starting (12V battery) Condition(s) When the vehicle will not start due to low battery power Operation Connect the jumper cables as shown. Positive (+) terminal of the flat battery (1) and the booster battery (2). Neg
Adjusting the steering wheel angle and height- (Kia Niro EV only) Operation Pull the lock-release lever (1) down. Adjust the steering wheel to the desired angle (2) and height (3). Pull the lock-release lever up. Adjusting ste