KIA Niro: Cup holders
Ambient lights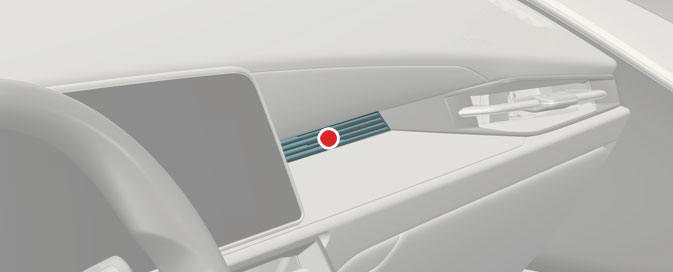 The ambient lights are applied to the front crash pad.
Cup holders (if equipped)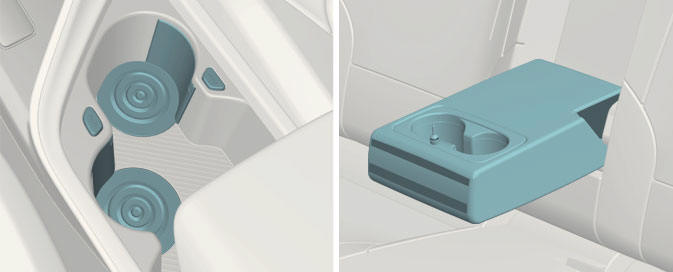 Press the button to use the cup holder.
Cups or small beverage cans can be placed in the cup holders. Slide the cup holder to use it as a storage area.
WARNING
Do not place uncovered cups with hot liquid in the cup holder while the vehicle is in motion. If the hot liquid spills, you burn yourself. Such a burn to the driver could lead to loss of control of the vehicle.
To reduce the risk of personal injury in the event of sudden stop or collision, do not place uncovered or unsecured bottles, glasses, cans, etc., in the cup holder while the vehicle is in motion.
Keep cans or bottles out of direct sun light and do not put them in a vehicle that is heated up. It may explode.
NOTICE
Keep your drinks sealed while driving to prevent spilling your drink. If liquid spills, it may get into the vehicle's electrical/electronic system and damage electrical/ electronic parts.
When cleaning spilled liquids, do not dry the cup holder at high temperature.

This may damage the cup holder.
READ NEXT:
The seat warmer/ventilation is provided to warm/cool the front and the rear seats. * The seat ventilation is provided only on the front seats. Operation Push the button to control the function. It defaults to the OFF position the veh
Operation Pull down and unsnap it from the bracket (1). Swing it to the side (2). Pull down and slide the mirror cover (3) to use the vanity mirror. The ticket holder (4) is provided for the purpose of holding a tollgate ticke
Type A Type B The AC inverter supplies 220V/200W or 115V/150W electric power to operate electric accessories or equipment. If you wish to use the AC inverter, open up the AC inverter cover and connect a plug to it. The AC inverter supplies
SEE MORE:
Fuel filler door Fuel tank cap Operation Turn the engine off. Ensure all the doors are unlocked. Press the rear center edge to open the fuel filler door (1). Remove the fuel tank cap (2) by turning it counterclockwise. Pla
Description Installed on top of the low pressure fuel pump, the Fuel Pressure Sensor (FPS) measures the pressure in the low pressure fuel line. Based on the fuel pressure measured by the FPS and the amount of fuel consumed, the fuel pump co