KIA Niro: Hybrid Control System / Description And Operation
The Hybrid Electric Vehicle (HEV) uses hybrid power source (Engine, Electric motor), so its fuel efficiency is relatively high and exhaust emission is very small compared to the traditional vehicle which uses only engine as power source. It consists of the engine, motor, high voltage battery and control modules.
In Electric Vehicle (EV) mode, the HEV is driven by only the electric motor, but engine supports the motor in case the vehicle needs more power (HEV Mode).
The electric motor not only drives the vehicle but also generates electric energy during regenerative braking for charging the high voltage battery.
HEV Operation Mode and Power Flow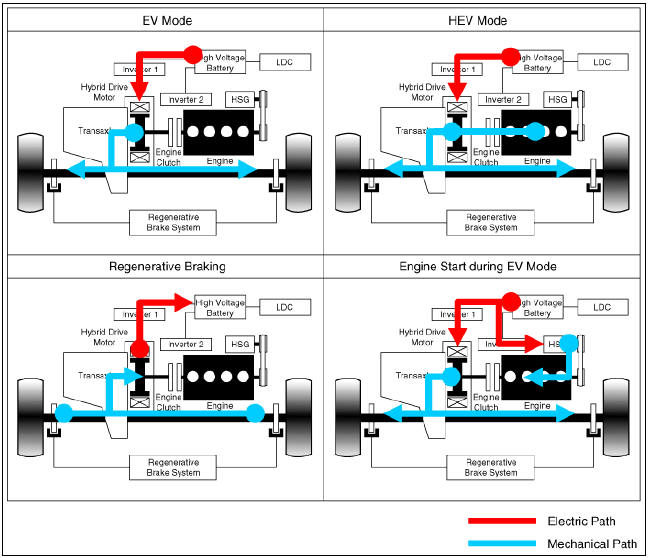 Driver Mode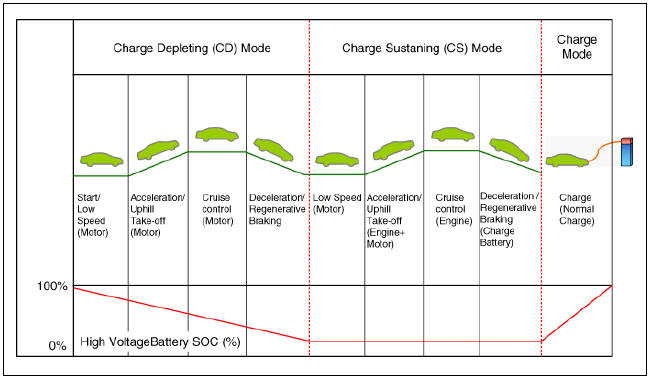 Warning Lamp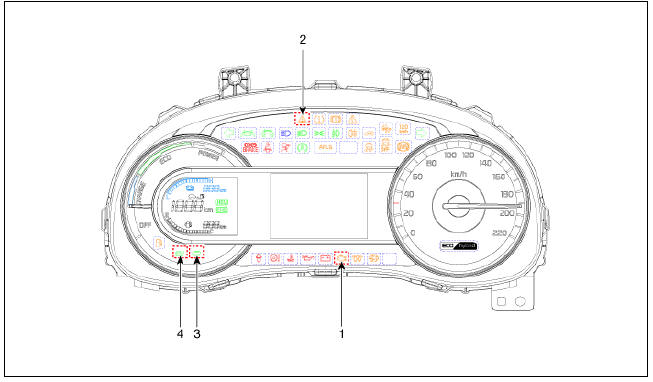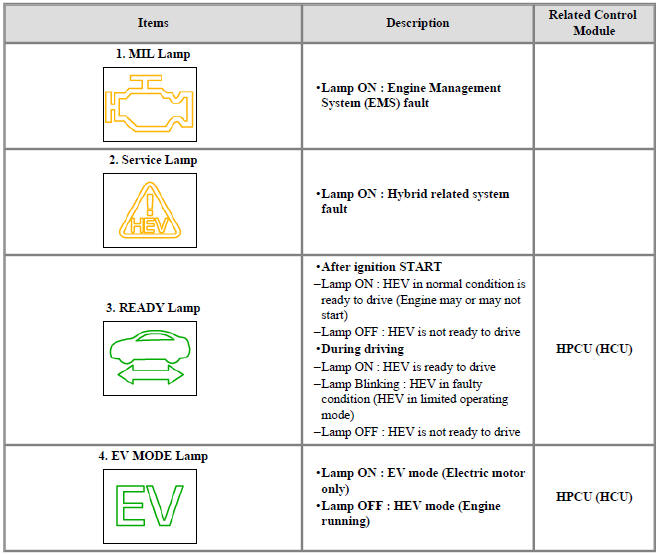 Items
MIL Lamp
Description
Lamp ON : Engine Management System (EMS) fault
Items
Service Lamp
Description
Lamp ON : Hybrid related system fault
Items
READY Lamp
Description
After ignition START
Lamp ON : HEV in normal condition is ready to drive (Engine may or may not start)
Lamp OFF : HEV is not ready to drive
During driving
Lamp ON : HEV is ready to drive
Lamp Blinking : HEV in faulty condition (HEV in limited operating mode)
Lamp OFF : HEV is not ready to drive
Related Control
Module
HPCU (HCU)
Items
EV MODE Lamp
Description
Lamp ON : EV mode (Electric motor only)
Lamp OFF : HEV mode (Engine running)
Related Control
Module
HPCU (HCU)
READ NEXT:
HPCU (Hybrid Power Control Unit) On-Board Charger (OBC) Charge Port Power Cable (HPCU↔HSG,Electronic A/C Compressor) Power Cable (HPCU↔Main High Voltage Battery System) Power Cable (Main High Voltage Battery System ↔ Sub High
Hybrid Power Control Unit (HPCU) terminal And Input/Output signal HPCU Terminal Function Connector (C133-S) (94Pin) : HPCU signal input and control High Voltage Cable (C133-P) (2 Pin) : HPCU↔Power Relay Assembly
Warning Be sure to read and follow the "General Safety Information and Caution" before doing any work related with the high voltage system. Failure to follow the safety instructions may result in serious electrical injuries. B
SEE MORE:
Controlling wipers Type A Type B Type C Operation Front wiper speed control MIST/1x: Single wipe / : Off INT/ *: Intermittent control wipe/Auto control wipe LO/1: Low wiper speed HI/2: High wiper speed Wash w
Operation Turn the shift dial. Press P button to shift to P (Park). Gear position The indicator in the instrument cluster displays the gear position when the EV button is in ON position. Automatic shift to P (Park) Operating con