KIA Niro: Manual mode
Paddle shifter is used to shift without taking your hands off the steering wheel.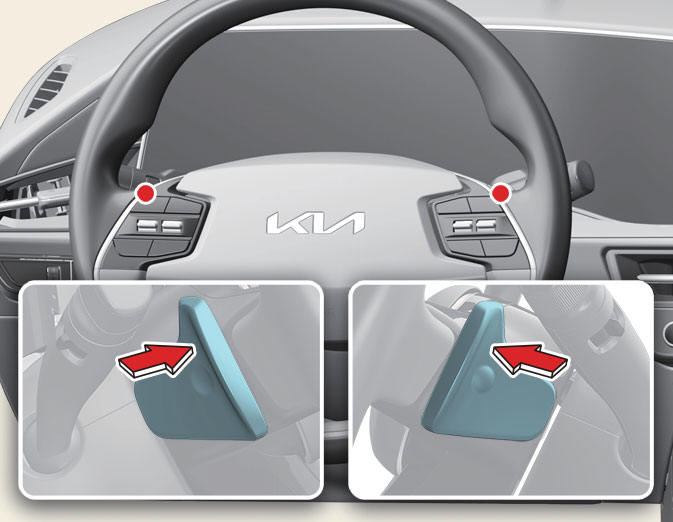 Operation
Pull the right side (+) of the paddle shifter once to shift up.
Pull the left side (-) of the paddle shifter once to shift down.
Operating condition(s)
The shift lever is in manual mode. (if equipped)
The vehicle is in D (Drive) and SPORT mode.
CAUTION
If you pull the left and right side of the paddle shifters at the same time, you cannot shift the gear.
Sudden engine brakes and rapid acceleration could cause malfunction.

Shift appropriately according to road conditions and driving speed.
NOTICE
The vehicle will shift to manual to automatic shift mode in following conditions:
When the vehicle speed decreases below 3 km/h (2 mph).
When the accelerator pedal is gently depressed for more than 6 seconds while driving.
READ NEXT:
Operation Pull the left side (-) of the paddle shifter to increase regenerative braking and deceleration. Pull and hold the left side (-) of the paddle shifter to reach MAX and stop the vehicle. Pull the right side (+) of the
The regenerative braking system allows you to charge the battery when you use the brakes to stop the vehicle. Adjusting regenerative braking with paddle shifter Operation Pull the left side ( ) of the paddle shifter to increase
SEE MORE:
Inspection Connect the KDS on the Data Link Connector (DLC). Start the engine and measure the output voltage of TPS 1 and 2 at C.T. and W.O.T. Throttle Position Sensor (TPS) ETC Motor Switch "OFF" the ignition. Discon
Check the crankshaft bearing oil clearance. (1) To check main bearing-to-journal oil clearance, remove the lower crankcase and lower bearings. (2) Clean each main journal and bearing with a clean shop towel. (3) Place one strip of plastigag