KIA Niro: Next departure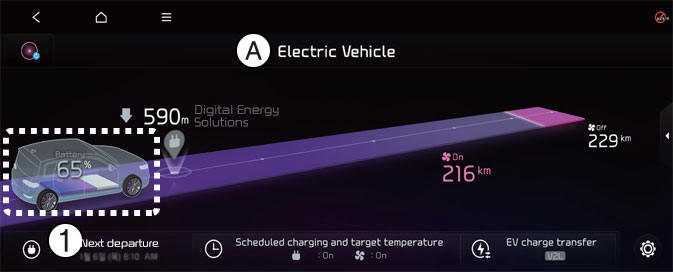 A: Electric vehicle
Next departure
Select EV ? Next departure on the screen. You can set the date and time of when to charge the battery, climate control temperature, and other various functions.
Departure time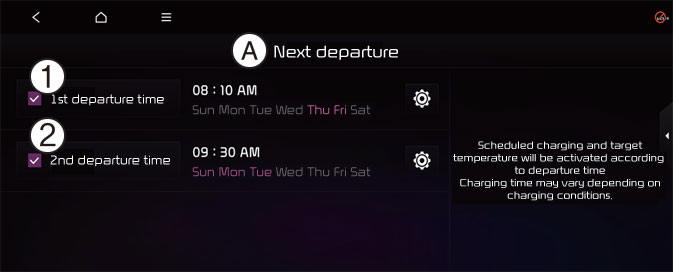 A: Next departure
1st departure time
2nd departure time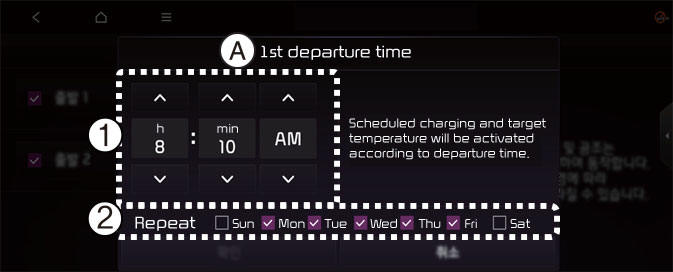 A: Departure 1
Departure Time
Departure Day
Set anticipated departure time for scheduled charging and target temperature.
Select the day of the week to activate scheduled charging and target temperature for departure time.
NOTICE
The infotainment system may change after software updates. For more information, refer to the manual provided in the infotainment system and the quick reference guide.
READ NEXT:
A: Electric Vehicle Scheduled charging and target temperature Select EV ? Scheduled charging and target temperature on the screen. NOTICE Vehicle must be connected with the charging connector at the time prescheduled time for the sc
V2L is the system that provides AC power using the high voltage battery for driving to operate several electronical products. A: Electric Vehicle EV Charge Transfer Select EV ? EV Charge Transfer on the screen. You can set the batt
Outdoor (if equipped) Open the cover of the V2L connector. Close the cover after connecting home appliances and electronic products to the power outlet. Connect the V2L connector to the charging hole on the vehicle. Pr
SEE MORE:
Checking the engine clutch actuator fluid level (Kia NIRO Hybrid) In normal driving conditions, the actuator fluid level does not go down rapidly. However, oil consumption rate may rise as vehicle mileage increases, and leakage in actuato
Description If the Gasoline Engine Control system components (sensors, ECM, injector, etc.) fail, interruption to the fuel supply or failure to supply the proper amount of fuel for various engine operating conditions will result. The following