KIA Niro: Front Brake
Inspection
Check the pads for excessive wear, discs for run out and wear, and calipers for fluid leakage.
Front brake disc thickness check
Check the brake pads for wear and fade.
Check the brake disc for damage and cracks.
Remove all rust and contamination from the surface, and measure the disc thickness at 8 points, at least, of same distance (5mm) from the brake disc outer circle.
Front brake disc thickness
Standard: 22 mm (0.8661 in)
Service Limit: 20.0 mm (0.7874 in)
Deviation: Less than 0.005mm (0.0002in)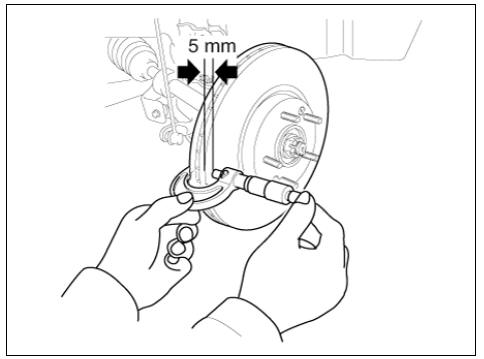 If wear exceeds the limit, replace the discs and pad assembly left and right of the vehicle.
Front Brake Pad Check
Check the pad wear. Measure the pad thickness and replace it, if it is less than the specified value.
Pad thickness
Standard value: 11.0 mm (0.4331 in.)
Service limit: 2.0 mm (0.079 in.)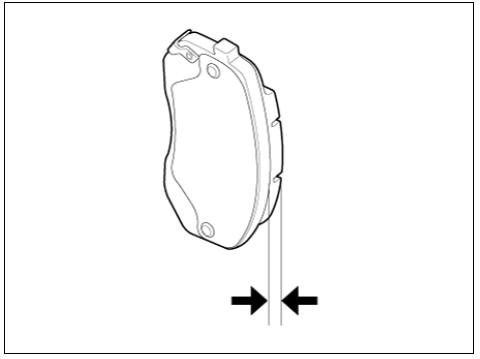 Check that grease is applied, to sliding contact points. Check for metal damage to the pad and backing.
Front brake disc runout check
Place a dial gauge about 5mm (0.2 in.) from the outer circumference of the brake disc, and measure the runout of the disc.
Brake disc runout
Limit: 0.04 mm (0.0016 in.) or less (new one)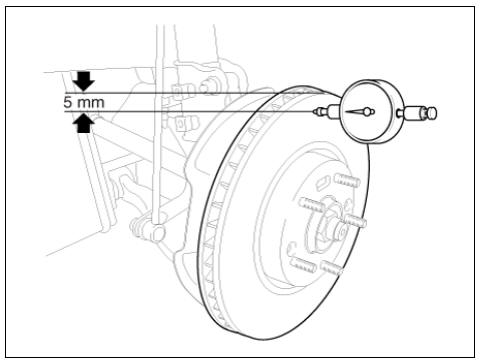 If the runout of the brake disc exceeds the limit specification, replace the disc, and then measure the runout again.
If the runout does not meet the limit specification, remove the disc, turn it 180º and reinstall. Then check the runout of the brake disc again.
If the runout cannot be corrected by changing the position of the brake disc, replace the brake disc.
READ NEXT:
Rear Brake Disc Thickness Check Check the brake pads for wear and fade. Check the brake disc for damage and cracks. Remove all rust and contamination from the surface, and measure the disc thickness at 8 points, at least, of same distanc
Inspection Check the tire pressure. 16(inch) : 2.5kg/cm²(36psi) 18(inch) : 2.5kg/cm²(36psi) Tire Rotation Checking For Pull And Wander If the steering pulls to one side, rotate the tires according to the following wheel rotation proced
Check refrigerant specifications label inside engine room. Examples R-134a R-1234yf If refrigerant specifications label is not visible, check the refrigerant service port diameter. High pressure side R-134a R-1234yf Low p
SEE MORE:
INFORMATION When the temperature gauge indicates overheating, loss of power or a loud pinging, knocking noise will occur, being the engine too hot. Cooling down the vehicle Operation Stop the vehicle to a safe place. Turn the hazard warni
A: Outside air B: Recirculated air C: Climate control air filter D: Blower E: Evaporator core F: Heater core The climate control air filter installed behind the glove box filters the dust or other pollutants that come into the v